[column-half-1]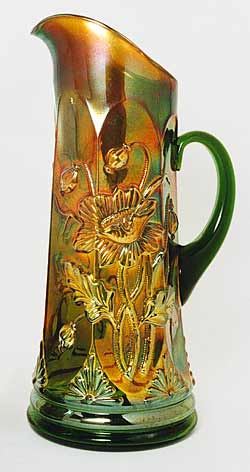 [/column-half-1][column-half-2]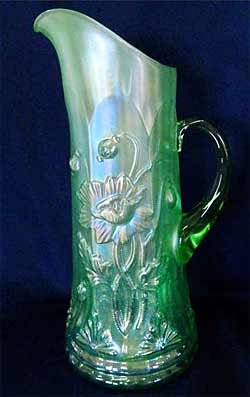 [/column-half-2]
A pattern similar to Northwood's Dandelion tankard, Oriental Poppy displays large poppies wrapping around both sides of the pitcher. The ice green tankard pictured above sold for $8,500 at the 2012 Heart of America Carnival Glass convention auction. Photo courtesy of Seeck Auctions.
[column-half-1]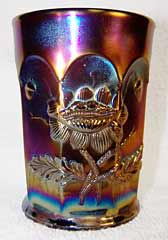 [/column-half-1][column-half-2]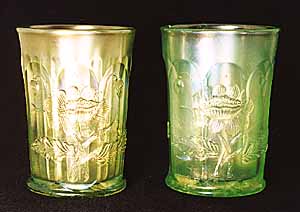 [/column-half-2]
The tumbler above left is a typical purple example. The others are a lime ice green variant (with ribbed interior) and an ice green. The variant sold for $900, the ice green for $150–both in 2000.
[column-third-1]Water sets, 7 pieces
Amethyst/purple, 300, 375, 425, 625, 700 (2013), 350, 500, 800 (2014), 550, 575 (2015)
Green, 750 (2010), 600, 675 (2012), 600, 800, 900 (2013), 550, 600 (2014)
Ice blue, 3,200 (2002), 1,900 (2009), 1,900 (2012)
Ice blue, 6 piece, 2,525 (2003), 1,700 (2014)
Marigold, 400 (2012), 250, 325 (2013), 225, 250 (2014), 170, 225 (2015)
Sapphire blue, 7,000 (2008)
White, 1,150, 1,200 (both 2005), 1,450 (2006), 1,100 (2010), 575 (2012), 700 (2014)[/column-third-1]
[column-third-2]Water tankards
Amethyst/purple, 170 (2013), 150, 265, 300, 1,200 (2014), 500 (2015)
Amethyst/purple, electric, 4,000 (2006), 3,500 (2007)
Amethyst/purple, ribbed interior, 600 (2001), 925 (2012)
Blue, electric, 6,500 (1998)
Blue, small restoration on lip, 3,700 (2006)
Green, 925 (2012), 475 (2013), 325, 350, 425 (2014)
Green, with 1 tumbler, 925 (2006), 550 (2010)
Ice blue, 2,400, 2,700, 3,000 (2006), 1,250, 1,500 (2010), 1,700 (2014)
Ice blue, ribbed interior, 1,300 (2015)
Ice green, 4,000 (1997)
Ice green, ribbed interior, 8,500 (2012), 5,000 (2014)
Lime green, 8,000 (2000), 16,000 (2006), 1,300 (2011)
Marigold, 265, 425 (2012), 145, 550 (2014)
Marigold, ribbed interior, 200 (2013)
Olive, 825 (1999)
Sapphire blue, 3,500 (2004), 16,000 (2007)
White, 600 (2008), 800 (2010), 1,000 (2012), 475, 600 (2014)[/column-third-2]
[column-third-3]Tumblers
Amethyst/purple, 15, 20, 25, 45 (2014), 25, 35 (2015)
Blue, 60 (2009), 165, 200, 225 (2011), 80, 140 (2012), 100 (2013)
Green, 30, 55, 60 (2012), 125 (2013), 20 (2014), 25, 40 (2015)
Ice blue, 110, 130 (2013), 85, 100, 110 (2014), 90 (2015)
Ice green, 175 (2002), 300 (2004), 125 (2007), 350 (2012)
Lime green, 250 (1995)
Lime green, ribbed int., 900 (2000), 300 (2003), 320 (2012)
Marigold, 13, 120 (2013), 13, 25, 60 (2014)
White, 25, 40 (2011), 60 (2012), 30, 35, 40, 80, 85 (2014), 45 (2015)[/column-third-3]
[pdb_list filter='manufacturer=Northwood&pattern=Oriental Poppy' sort=true orderby="shape,color,saledate,price" order="asc,asc,desc,asc"]