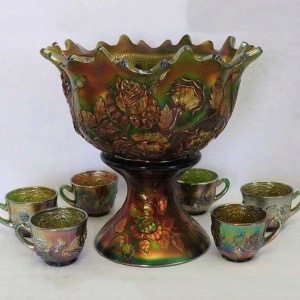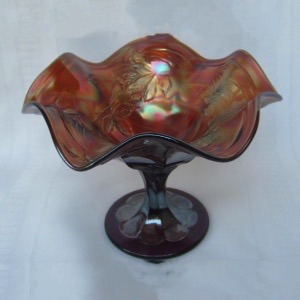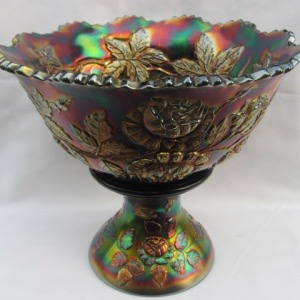 Manufacturer: Fenton
Year(s) of Production: 1910-1912
Pattern Description: Rose blossoms, leaves and buds fill the interior of stemmed bonbons and the exterior of punch sets. Punch Sets can have an interior pattern of Persian Medallion, Vintage or be plain.
Similar Patterns: Dugan Wreath of Roses
Shapes in Database: Bonbon, Compote, Cup, Punch Bowl, Punch Bowl Base, Punch Bowl Top, Punch Set
Colors in Database*: Amethyst/Purple, Blue, Green, Marigold
*Not all colors are available in every shape.
About Fenton's Wreath of Roses
This pattern is made up of nicely opened realistic roses (with some buds) that 'wreath' the entire shape. Advertised in the 1910 and 1911 Butler Bros Catalogs, this pattern comes in the basic Fenton colors.
Available shapes: