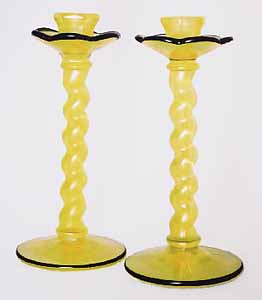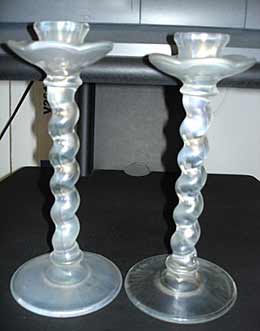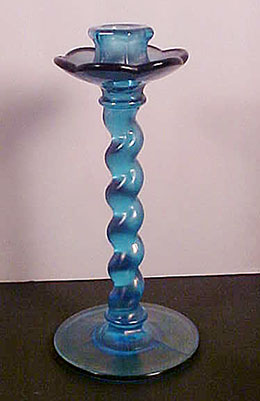 Above left is a pair of twisted Bobeche candleholders. They're 9 1/4 inches tall, in vaseline, and sold for $120 at an auction in 2000. These, or a similar pair, sold in 2007 for $195. In 2010 a pair in light marigold sold for $75.
In March of 2009, Greg Warhol sent me this photo of his recently acquired Twist Bobeche candleholders in white (above center). He had checked around and could find no others in other collections, although he suspects there must be more. I don't know if they're the same pair, but in late 2009, a set listed as white sold for $275.
In 2012, two pairs in vaseline with black trim sold for $140 and $150.
Jeff Schleede sent me this photo of a celeste twist-bobeche stick in 2014 (above right). The first I've heard of, so they do exist.
Total Records Found: 9, showing 100 per page

| MFG | Pattern | Shape | Edge Treatment | General Size | Extra Detail | Color | Price | Sale Date | Damage | Auctioneer | Photo1 |
| --- | --- | --- | --- | --- | --- | --- | --- | --- | --- | --- | --- |
| US Glass | Twist Bobeche | Candlestick | | | Black Trim | Celeste Blue | 375.00 | 02/09/2019 | | Burns | |
| US Glass | Twist Bobeche | Candlestick | | | | Marigold | 10.00 | 05/01/2016 | | Seeck | |
| US Glass | Twist Bobeche | Candlestick | | | | Vaseline | 110.00 | 12/06/2015 | | Seeck | |
| US Glass | Twist Bobeche | Candlestick | | | Black trim | Vaseline | 140.00 | 10/27/2012 | | Burns | |
| US Glass | Twist Bobeche | Candlestick | | | Black Trim | Vaseline | 150.00 | 06/13/2012 | | Seeck | |
| US Glass | Twist Bobeche | Candlestick | | | Black Trim | Vaseline | 165.00 | 10/24/2015 | | Burns | |
| US Glass | Twist Bobeche | Candlestick | | | Blue Trim | Vaseline | 375.00 | 11/14/2015 | | Wroda | |
| US Glass | Twist Bobeche | Candlestick | | | | White | 165.00 | 10/24/2015 | | Burns | |
| US Glass | Twist Bobeche | Candlestick | | | | White | 240.00 | 05/24/2018 | | Wroda | |