Page last updated November 20, 2017
Samovars were developed as a means to heat water, often to make tea. They date back to the 1700s in Russia where they were made in metal. They typically have a large center area that holds the water and a base that either holds a method of heating the water or can be placed over coals or even burning wood for heating. The tops often have a small teapot shape that was used to hold a concentrated tea solution that was diluted with the heated water. They're still available, mostly in electric models. The origin of the Carnival Glass examples is unclear, but obviously would be quite late as Samovars go. Here are a few that have been brought to my attention.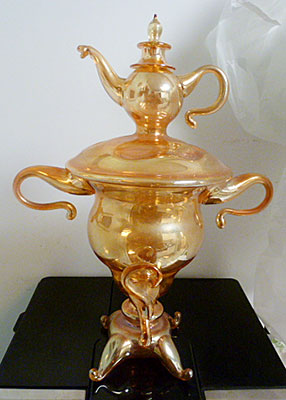 The samovar shown in the two photos above is owned by Greg Dilian. He sent me the photos in 2014 to show the little lid covering the pot.
At the left is a samovar that sold in 2014 at the Tom Burns auction of the late Bill Richards carnival. It went for $130. It's hard to judge values on such rare and unusual pieces. One example that sold in 2000 and listed as a 5-piece set (probably with cups) brought $875 while the example below brought $240 in 2010.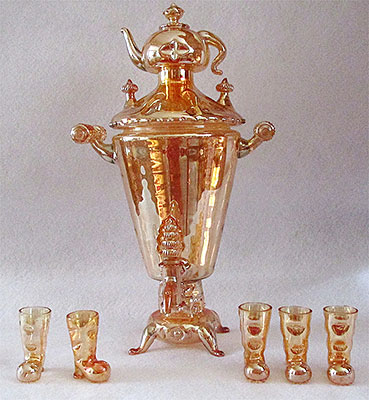 The samovar set at the left is courtesy of Carl and Eunice Booker. They bought the set privately and paid $187, including the boot cups. The samovar is 12 1/2-inches tall and the boot cups are 2 1/2 inches high.
Also note the elaborate handles and feet on all these pieces. Such samovars were blown, rather than of pressed glass as most Carnival was.