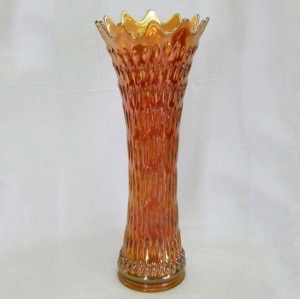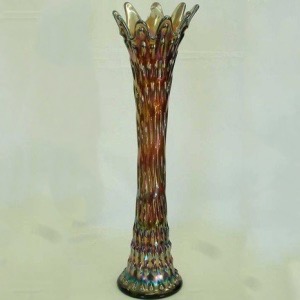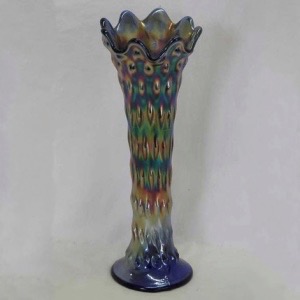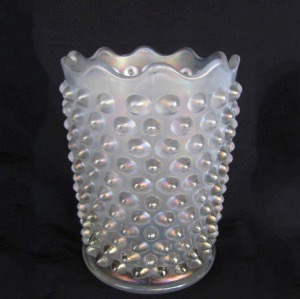 Manufacturer: Fenton
Year(s) of Production: 1912 Butler Bros Catalog
Pattern Description: Rows of hobnails encircle the entire height of the various shapes. Funerals may have a plunger base and Mid-Size variants have an extra hob in each flame top.
Similar Patterns: Fenton April Showers, Fenton Knotted Beads, Fenton Long Thumbprint Hobnail, Millersburg Swirled Hobnail, Northwood Tree Trunk
Shapes in Database: Jardiniere, Spittoon, Vase
Colors in Database*: Amber, Amethyst Opal, Amethyst/Purple, Blue, Blue Opal, Electric Blue, Emerald Green, Green, Lime Green/Marigold Overlay, Marigold, Pastel Marigold, Peach Opal, Pink, Red, Sapphire Blue, Vaseline Opal, Vaseline/Marigold Overlay, White
*Not all colors are available in every shape.
About Rustic
Fenton's Rustic pattern is, very simply, rows of hobs covering the shape. Interestingly, it is only found in the 1912 Butler Bros Catalog, implying a very short time of production. There were 5 different molds used to manufacture the 3 sizes of vases.
Rustic was made in a multitude of colors.
Available shapes include: