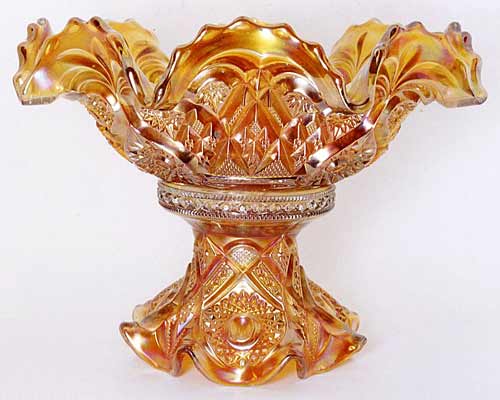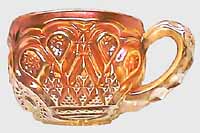 Royalty has a group of small elements arranged in a crown design. The pattern was shown in a 1909 Imperial catalog under the name Imperial Crown. While the pattern was made in many shapes in crystal, it is found only in punch sets in Carnival. The base to the punch bowl is Fashion. The punch bowl is courtesy of Rick and Debbie Graham, the punch cup courtesy of Kathi and Galen Johnson. I've only heard of the set pieces in marigold.
A punch bowl and base sold for $275 in 2003. In 2010, a marigold 10-piece set sold for $700, a 17-piece set sold for $450. In 2012, an 8-piece set sold for $210. And in 2013, an 11-piece set brought $250; a 10-piece set $125.
Punch cups are worth $10 to $15 each.

Total Records Found: 10, showing 100 per page

| MFG | Pattern | Shape | Edge Treatment | General Size | Extra Detail | Color | Price | Sale Date | Damage | Auctioneer | Photo1 | Photo2 | Photo3 |
| --- | --- | --- | --- | --- | --- | --- | --- | --- | --- | --- | --- | --- | --- |
| Imperial | Royalty | Cup | | | | Marigold | 7.50 | 04/20/2013 | | Wroda | | | |
| Imperial | Royalty | Cup | | | | Marigold | 15.00 | 06/19/2015 | | Wroda | | | |
| Imperial | Royalty | Cup | | | | Marigold | 20.00 | 03/30/2014 | 2 damaged cups | Seeck | | | |
| Imperial | Royalty | Punch bowl Top | Ruffled | | | Marigold | 130.00 | 11/18/2017 | | Burns | | | |
| Imperial | Royalty | Punch Set | | | | Marigold | 25.00 | 11/02/2012 | Internal crack in bowl | Burns | | | |
| Imperial | Royalty | Punch Set | Ruffled | | | Marigold | 125.00 | 10/26/2013 | | Wroda | | | |
| Imperial | Royalty | Punch Set | | | | Marigold | 170.00 | 01/07/2018 | Chip on bowl edge | Seeck | | | |
| Imperial | Royalty | Punch Set | | | | Marigold | 210.00 | 03/03/2012 | | Seeck | | | |
| Imperial | Royalty | Punch Set | | | | Marigold | 250.00 | 04/27/2013 | | Seeck | | | |
| Imperial | Royalty | Punch Set | | | | Marigold | 300.00 | 11/13/2016 | base has pinpoint on ruffle | Seeck | | | |