Page last updated January 13, 2016
Occasionally readers of this Web site send me photos of interesting or unusual pieces. Here are a few.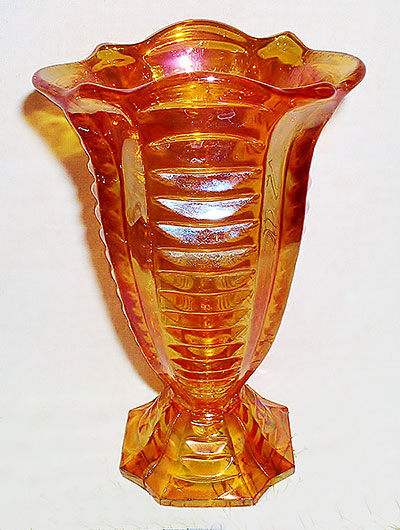 Richard Fenton sent me this photo of his recently acquired Drapery Variant vase in rich marigold and 8 inches tall. Probably by Inwald. I've not talked with anyone who has seen this shape before.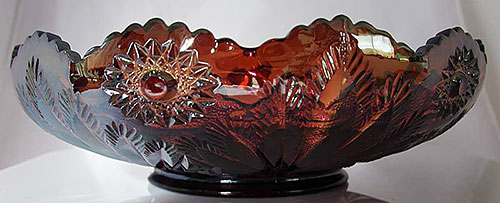 Brendan Morant sent me this photo of his Millersburg Rays and Ribbons bowl. It's edges are cupped up, but are they cupped in enough to make it a rosebowl? I don't think so. So I'd refer to it as a cupped up bowl or deep round bowl.

This is a Fenton Spector's Department Store piece. Unlike most, however, it never got flattened into a plate. As it is two inches off the table, has to be considered a bowl. Courtesy of Chuck Hollenbach.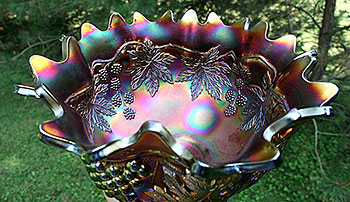 Gary Heavin sent me this photo of his Grape and Cable fruit bowl with a blackberry interior. He points out that there are three known and this is the only amethyst; the others are blue.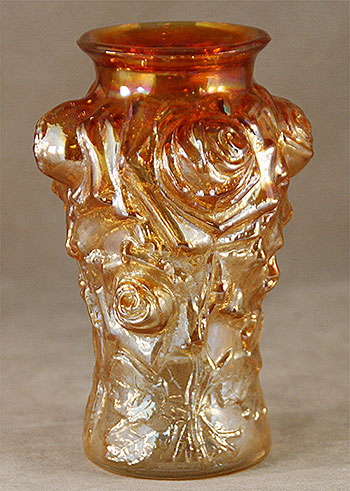 This vase is a recent find by Terry Jondahl. He calls it Puffy rose and it is 5 inches tall.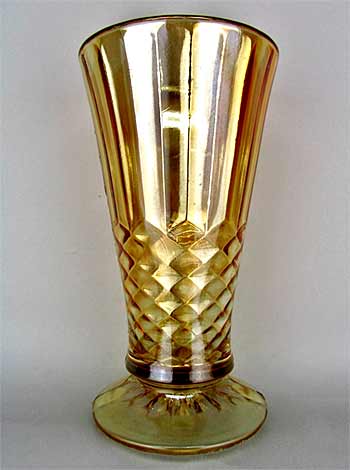 King Hoppel sent me this photo of his most interesting 6 1/2 marigold vase. He reports is as U.S. Glass pattern Aunt Polly from the late 1920s.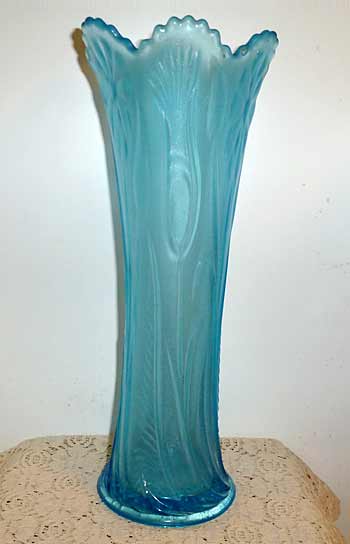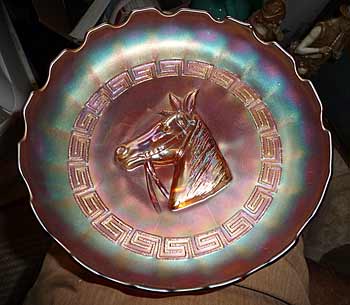 A couple of rare pieces owned by Greg Dilian. The vase is Field Thistle in celeste. I've never heard of another in celeste. The Pony bowl is in the ice cream shape and is dark marigold. I've heard of only one other in this shape, also in marigold.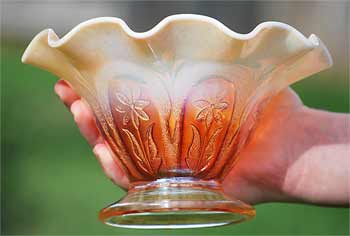 Another unusual piece from Shawn Rosenberry and Jennifer Kaplan, this one a Flowers and Frames deep bowl or vase in peach opal.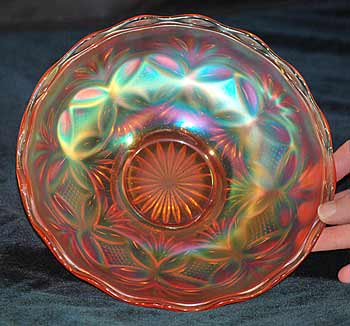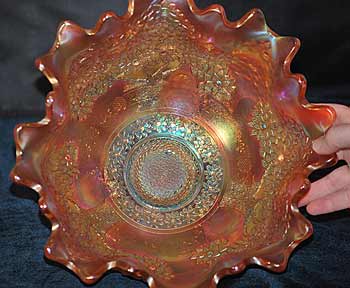 Shawn Rosenberry and Jennifer Kaplan sent me these photos of their Pillow and Sunburst plate and their Orange Tree fruit bowl with three orange trees on the interior. The plate is only the second one that I know of; there are very few of the Orange Tree fruit bowls with only three trees–most have four.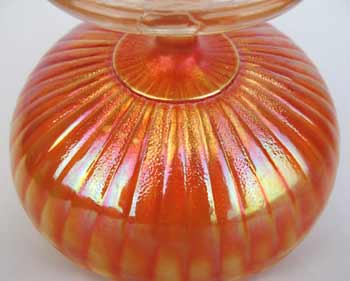 King Hoppel sent this photo of a Stippled Rays compote. He points out that, other than the Hattie pattern, it's the only pattern with the same pattern on the inside and outside.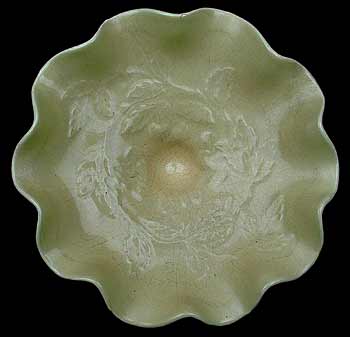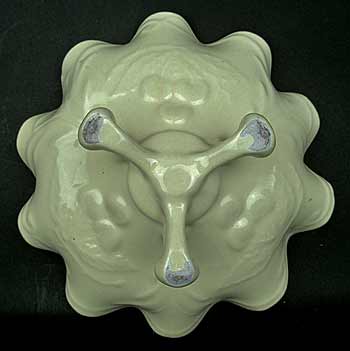 King Hoppel sent me these photos of a ceramic Dugan Cherries footed bowl that his mother has had for many years. Most unusual, even if not Carnival.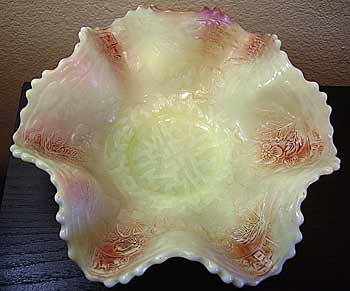 Here's an unusual piece: a Fenton Illusion sauce. It's the first piece in the pattern I've heard of that wasn't a bonbon. It's custard with marigold iridizing and has the berry and leaf circles back pattern. Many thanks to Jimmy Griffin for sending in the photo.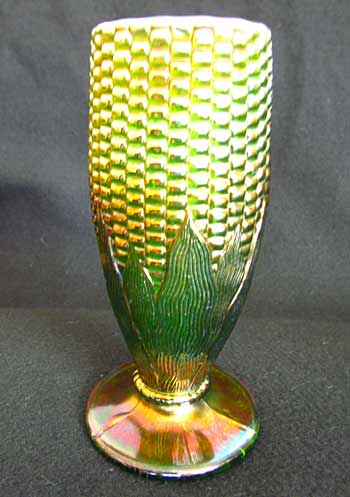 In early 2013, Alton Jones sent me this photo of a Northwood green corn vase he had recently bought on eBay. What's interesting is that it has marigold iridescence. A really handsome vase that also has the stalk base.

Roy Lafontain sent me these photos of his most unusual Rustic midsize vase. The base is quite a strong blue, blending to amethyst about half way to the top. Has anyone seen anything like it?
From Gary Lickver
I have a twin to yours, Rustic Mid-size vase amy.-green swirl. I bought mine over 20 years ago. Neat, rare vases.
From: Shirley and Ray Henry
Hello, Although it is hard to photograph, we too have a rustic vase in 2 different colors. So we do believe the cobalt and amethyst Rustic vase can exist. Ours is purple and green. The base is mostly purple with a green swirl leading to green and purple panels all the way to the top. We have shown it to Tom Burns and he can confirm it. I could not get good pics though because of the heavy outside iridescence. Maybe at the end of day they dumped all their left over glass batches into the mold to use it up. With iridescence you would not notice until you hold it up to a strong light. We have been actively collecting for 40 years and this is only the second such vase we have seen.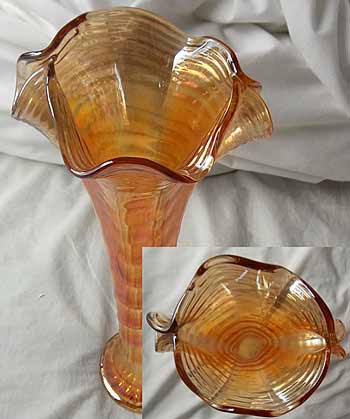 Brian Layfield sent me these photos of his marigold Ripple vase with two spouts–one on each side. I've seen a few with a single spout, but this is the first with two.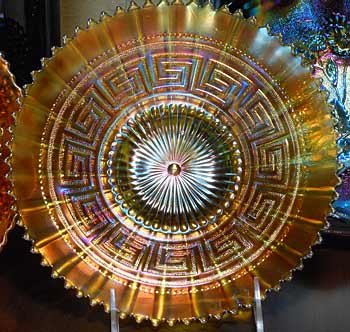 Bruce and Selina sent me this photo of their one-of-a-kind Greek Key plate in lime green.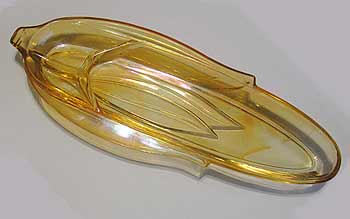 Joe Campbell sent in this photo of his most unusual dish. I'm guessing that its for corn. Never seen one like it before.