McKee began making pressed glass that emulated the fine cut glass of the period about 1904. Some experts say they eventually had 27 patterns, all ending with the "tec" letters. The molds passed through several companies, eventually ending up with Smith. There are very few records of any of these every selling. Makes sense as the original purpose was to appear to be fine cut glass and only after that phase had ended did the subsequent makers begin iridizing it to extend the pattern life.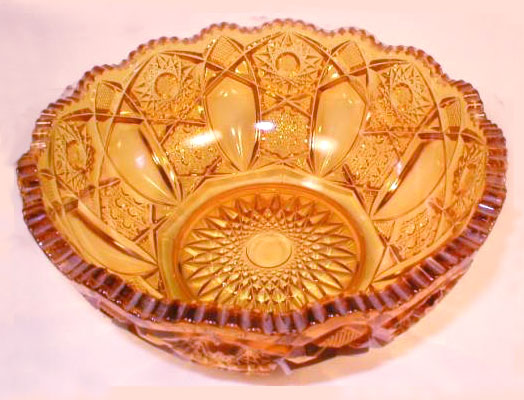 Quintec
This is a Kemple glass bowl in the Quintec pattern. Kemple glass purchased the "tec" pattern molds from the McKee glass company and made these patterns in milk glass and colors. This bowl is in an amber marigold color!. Measures 7.5″ across and 3.25″ high. It sold for $24.99, date and place unknown.
Aztec
As with most of the "tec" patterns that are iridized, the iridization is quite light on this Aztec tumbler. It sold in 2011 for $185. A piece listed as an Aztec 9-inch plate with, "Molans Furniture" inscribed on it, sold in 2004 for $185. Photo courtesy of Wroda Auctions.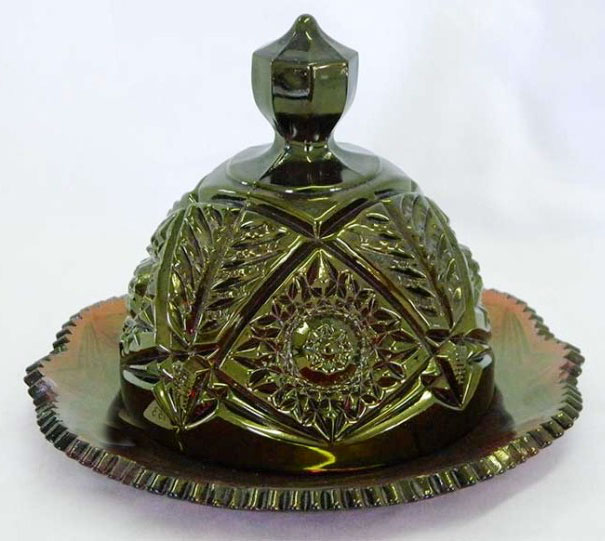 Toltec
This was described at a Toltec butter dish when it sold at the ICGA convention auction in 2012. It was listed as lightly iridized and brought $65. Photo courtesy of Seeck Auctions.