Soldiers and Sailors Home, Fenton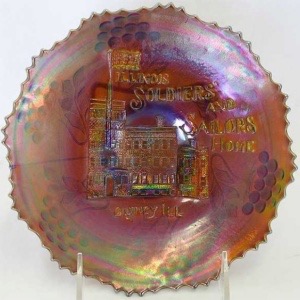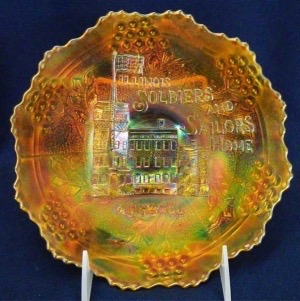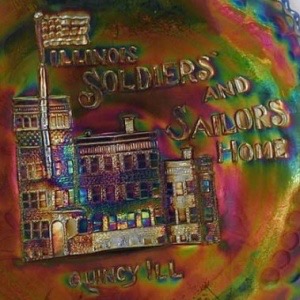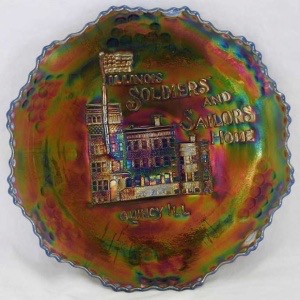 Manufacturer: Fenton
Year(s) of Production: Circa 1910-1914
Pattern Description: These 8 inch plates depict the veteran's building - Illinois Soldiers and Sailors Home, Quincy ILL. Exterior pattern is Berry and Leaf Circle aka Horse Chestnut.
Similar Patterns: Fenton Indiana State House, Fenton Soldiers and Sailors Monument
Shapes in Database: Plate
Colors in Database*: Blue, Marigold
*Not all colors are available in every shape.
About Fenton's Illinois Soldiers and Sailors Home
This pattern is currently reported only in a plate shape, measuring 7-8″. The pattern consists of the Illinois Soldiers and Sailors home with the lettering molded top middle/right of the building (flag proudly flying on the left side). Quincy Ill is under the building. The back pattern is called Berry & Leaf Circle or Horse Chestnut. The edge treatment is sawtooth with scallops, making it appear to be 12 sided. According to Marion Hartung, the presumed production date is between 1910 and 1914.