Peacocks (Peacocks on the Fence), Northwood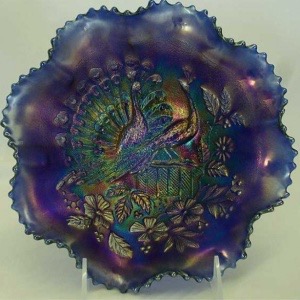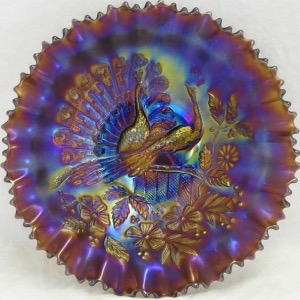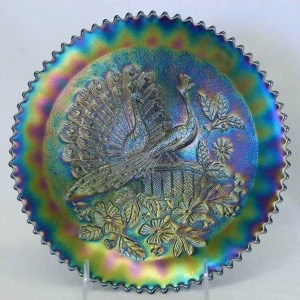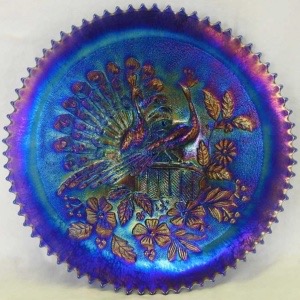 Manufacturer: Northwood
Year(s) of Production: 1912 Butler Bros Catalog
Pattern Description: Two peacocks sit on a lattice fence, one with tail feathers down and the other in full plumage. Leaves and flowers below and to the right of the fence.
Similar Patterns: Fenton Peacock and Urn, Northwood Peacock and Urn, Millersburg Peacock, Millersburg Peacock and Urn
Shapes in Database: Bowl, Plate
Colors in Database*: Amber, Amethyst/Purple, Aqua Opal, Aqua Opal Butterscotch, Aqua Opal Pastel, Aqua/Marigold Overlay, Blue, Blue Slag, Electric Blue, Emerald Green, Green, Horehound, Ice Blue, Ice Blue Opal, Ice Green, Lavender, Lime Green, Lime Green Opal, Marigold, Pastel Marigold, Powder Blue Opal, Renninger Blue, Sapphire Blue/Marigold Overlay, Smoke, White
*Not all colors are available in every shape.
About Peacocks on the Fence
Peacocks were a common pattern, well suited to carnival glass since they both have beautiful iridescence. The well balanced pattern of 2 peacocks (one with the tail down, the other with it prominently fanned out while perched on a gate (or fence) is very popular. It is found advertised in the 1912 spring edition of the Butler Bros wholesale catalog in a glassware assortment. The pattern has been found on fake bowls (made in the far east).