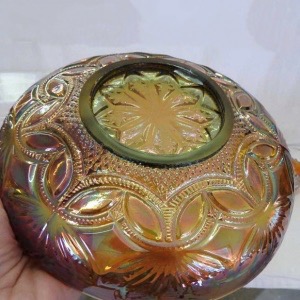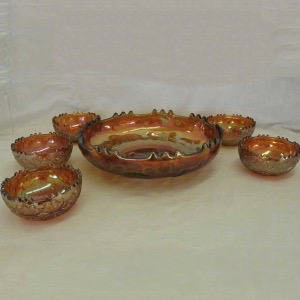 Manufacturer: Unknown
Year(s) of Production: Unknown
Pattern Description: A geometric exterior pattern with a cane filler starting at the base, convex zippered arcs with 2 smooth ovals separated by concave zippered arcs, topped with alternating diamonds and fans.
Similar Patterns: Brockwitz Louise
Shapes in Database: Berry Set
Colors in Database: Amber*
*Not all colors are available in every shape.
About Louise
This geometric pattern was first done by Brockwitz of Germany circa 1914, limited to a few shapes in marigold. Looking from the side, the pattern is reminiscent of a flower with 5 decorated petals pointing up and two plain petals pointing down (then repeated around the shape). Berry sets and a small cupped dish have been found in South America (Brazil) on a light aqua base glass with a marigold overlay and are possibly a copy of the Brockwitz pattern. The manufacturer is unknown. The bowls (berry sets) have a ground base and a plain interior.