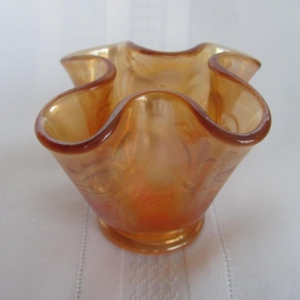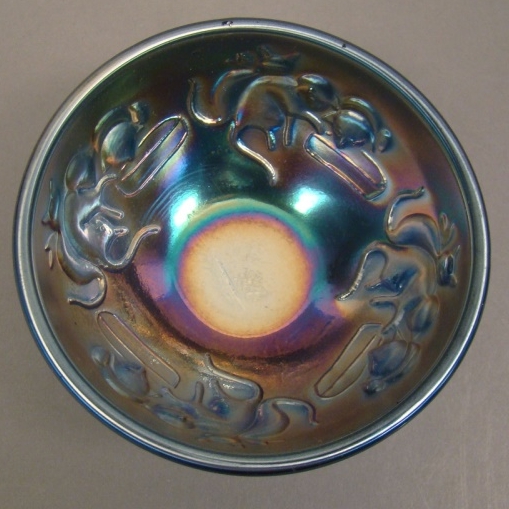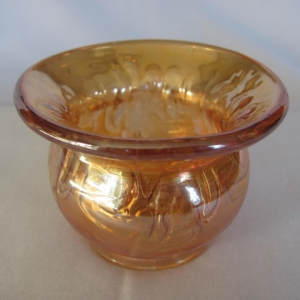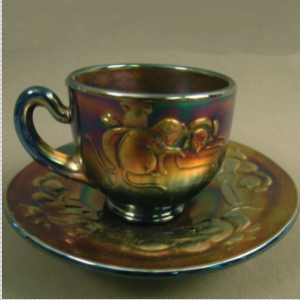 Manufacturer: Fenton
Year(s) of Production: 1919 Butler Bros Catalog
Pattern Description: Four sets of a trio of kittens around the outer edge of these children's pieces. Within each set the kittens are playing around a bowl. Earlier pieces may have two sets instead of four.
Similar Patterns:
Shapes in Database: Bowl, Cup, Cup and Saucer, Plate, Spittoon, Toothpick
Colors in Database: Amethyst/Purple, Aqua/Marigold Overlay, Blue, Lavender, Marigold, Powder Blue/Marigold Overlay, Vaseline/Marigold Overlay, White*
*Not all colors are available in every shape.
About Kittens
Children's dishes with either two or four sets of a trio of kittens around a bowl. The exterior of the bowls and plates are plain as are the interior of the cups. This pattern is found in a limited amount of colors and shapes. These whimsical small dishes were advertised in the Butler Bros Catalogs in 1919.
This pattern was reproduced in handled baskets (not made in the old carnival glass) beginning in the late 1970's.
Available shapes are: