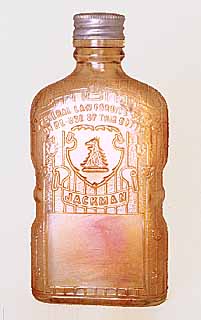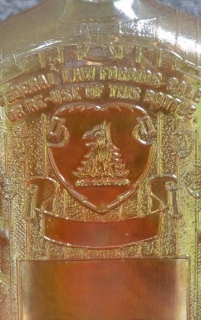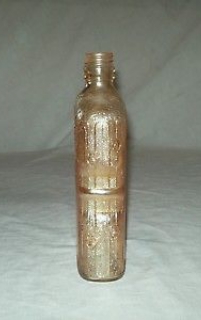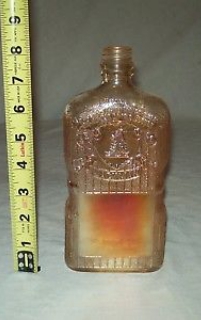 Manufacturer: Unknown
Year(s) of Production: Circa 1935
Pattern Description: Pint or half-pint whiskey bottle with a logo of a griffin in a heart shaped shield, some have Jackman embossed below.
Similar Patterns: Golden Wedding
Shapes in Database: Bottle
Colors in Database*: Marigold
*Not all colors are available in every shape.
About Jackmans Whiskey
These whiskey bottles are circa 1940 and could be mistaken for the Golden Wedding bottles at first glance, but they have a logo with a griffin in a heart-shaped shield below the verbiage 'FEDERAL LAW FORBIDS SALE OR RE-USE OF THIS BOTTLE' . They come in at least 2 sizes: the 1/2 pint bottle measures about 6″ tall and 3″ wide and has a blank ribbon below the griffin (the label would have said Jackman Whiskey) while the pint bottle measures about 8 1/2″ tall and 4″ wide and has Jackman embossed in the ribbon below the griffin. The bottles have a stippling over most areas (the label area is not stippled).