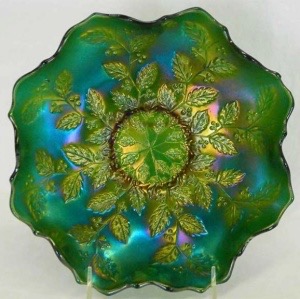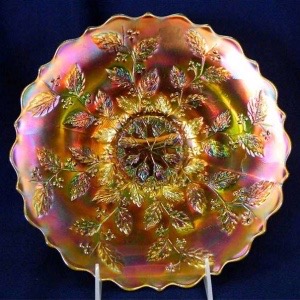 Manufacturer: Fenton
Year(s) of Production: 1910-1929 Butler Bros Catalog
Pattern Description: From the very center, eight holly branches stretch out to the outer edge with leaves and berries. The exterior is plain.
Similar Patterns: Dugan Holly Berry, Millersburg Holly Sprig and Whirl
Shapes in Database: Bowl, Compote, Hat, Nut Bowl, Plate, Rose Bowl
Colors in Database*: Amber, Amber Slag, Amberina, Amethyst Opal, Amethyst/Purple, Aqua, Aqua Opal, Aqua Opal Butterscotch, Aqua/Marigold Overlay, Black Amethyst, Blue, Blue Opal, Celeste Blue, Clambroth, Electric Blue, Emerald Green, Green, Ice Green, Lavender, Lavender/Marigold Overlay, Lime Green/Marigold Overlay, Marigold, Marigold on Milk Glass, Marigold on Moonstone, Olive Green, Pastel Marigold, Peach Opal, Pink/Marigold Overlay, Powder Blue/Marigold Overlay, Red, Red Slag, Reverse Amberina, Sapphire Blue/Marigold Overlay, Teal, Vaseline, Vaseline Opal, Vaseline/Marigold Overlay, White
*Not all colors are available in every shape.
About Fentons Holly
Eight vine-like leafy stems with berries flow out from the center. Although called Holly, the plant actually more closely resembles a Winterberry vine. Advertising in the Butler Bros Wholesale catalog runs from 1910 thru 1929, so it was apparently a very popular pattern. Most shapes are available in a great range of colors.
Holly bowls and plates were reissued by Fenton starting in about 1992, supposedly in colors that were not original.