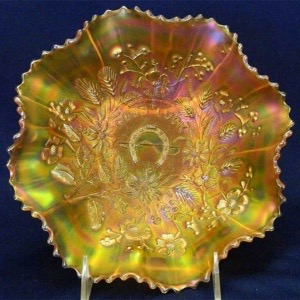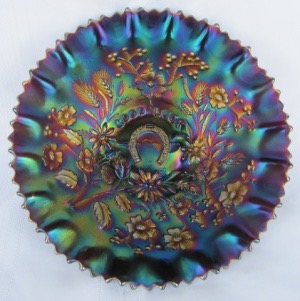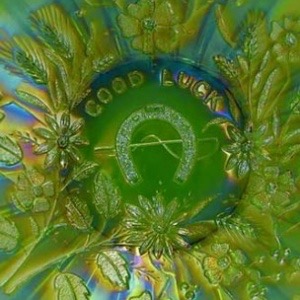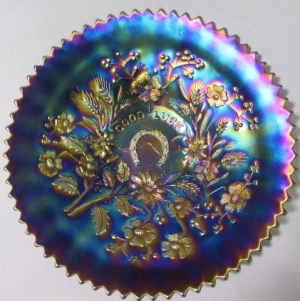 Manufacturer: Northwood
Year(s) of Production: Circa 1909-1917
Pattern Description: A center horseshoe and whip with the words "Good Luck" above surrounded by floral sprays, berries and wheat sheafs. Background may be stippled. A variant has less detail especially noted in fewer berries.
Similar Patterns: Fenton Good Luck, Northwood Good Luck Prototype
Shapes in Database: Bowl, Plate
Colors in Database*: Amethyst/Purple, Aqua, Aqua Opal, Aqua Opal Butterscotch, Aqua Opal Pastel, Blue, Blue Opal, Electric Blue, Emerald Green, Green, Horehound, Ice Blue, Ice Blue Opal, Ice Green, Lavender, Marigold, Pastel Marigold, Renninger Blue, Sapphire Blue, Sapphire Blue/Marigold Overlay, White
*Not all colors are available in every shape.
About Northwood Good Luck
Northwood's Good Luck has a central horseshoe with a whip under it. GOOD LUCK is molded above and the center is surrounded by flowers, wheat, leaves and berries. There is a variant (see goodluck-variant-nwood) with smaller berry bunches. There is also a prototype version with a very different horseshoe as well as many less flowers and berries. This pattern has been reproduced by Fenton and faked by a Far Eastern company.