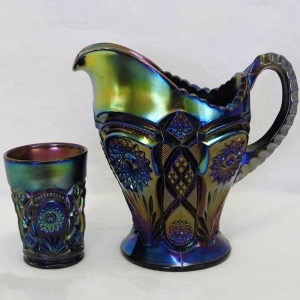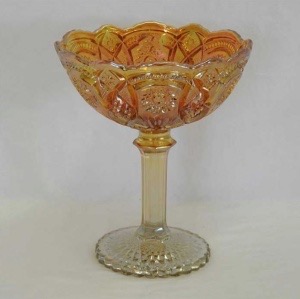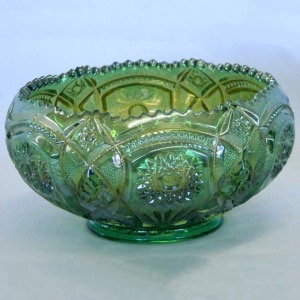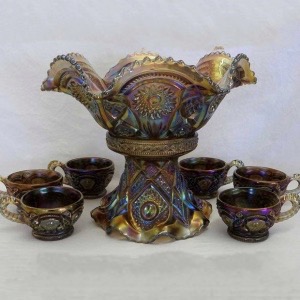 Manufacturer: Imperial
Year(s) of Production: Circa 1909
Pattern Description: Fans of raised ribs form eight shell like features around the outer edge of these bowls and plates. In the center is a star formation of more raised ribs.
Similar Patterns: Imperial Royalty
Shapes in Database: Bowl, Breakfast Set, Compote, Creamer, Cup, Pitcher, Punch Bowl, Punch Bowl Base, Punch Bowl Top, Punch Set, Rose Bowl, Sugar, Tumbler, Water Set
Colors in Database*: Amber, Amberina, Amethyst/Purple, Clambroth, Green, Marigold, Pastel Marigold, Powder Blue/Marigold Overlay, Red, Smoke
*Not all colors are available in every shape.
About Fashion
This geometric pattern consists of a large flower-like hobstar covered with a serrated arch that has 2 geometric panels on each side (sort of a figure 8 look).
Imperial reissued the pattern in a bell and toothpicks (has an Imperial mark) and a 4 3/4″ jelly compote (not marked).
Available shapes: