Diana the Huntress, Golden Cupid, Zabkowice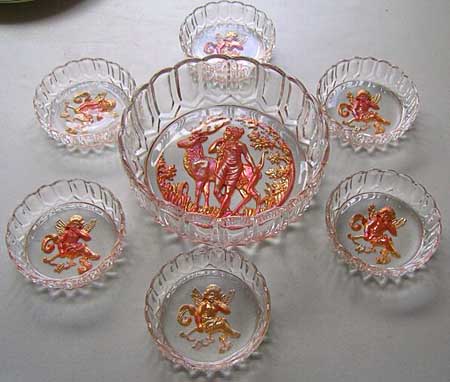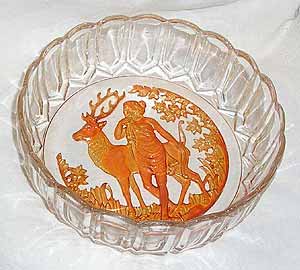 This group of bowls sold on eBay in 2004 for $1,201. Included are a large Diana the Huntress bowl and 6 smaller Golden Cupid bowls. Photo courtesy of Robin and Maxine Levinson, Melbourne, Australia.
The 8-inch Diana the Huntress bowl on the right sold on eBay in 2005 for $564. It was also from Australia.
Other similar pieces can be seen here: Golden Blackberries, Golden Pansies, Golden Thistle, Golden Poppies
Total Records Found: 21, showing 100 per page

| MFG | Pattern | Shape | Edge Treatment | General Size | Extra Detail | Color | Price | Sale Date | Damage | Auctioneer | Photo1 |
| --- | --- | --- | --- | --- | --- | --- | --- | --- | --- | --- | --- |
| Zabkowice | Golden Pansy | Bowl | Oval | | | Marigold | 275.00 | 06/06/2019 | | Seeck | |
| Zabkowice | Golden Carp | Bowl | Oval | | | Marigold | 350.00 | 03/24/2018 | | Seeck | |
| Zabkowice | Golden Blackberry | Bowl | Round | | | Marigold | 110.00 | 12/03/2017 | | Seeck | |
| Zabkowice | Golden Cupid | Bowl | Round | Sauce | | Marigold | 300.00 | 09/23/2017 | | Seeck | |
| Zabkowice | Diana the Huntress | Bowl | Round | Standard | | Marigold | 650.00 | 09/23/2017 | | Seeck | |
| Zabkowice | Golden Poppies Variant | Bowl | Oval | Small | | Marigold | 75.00 | 06/25/2017 | | Seeck | |
| Zabkowice | Golden Pansy | Bowl | Oval | | | Marigold | 75.00 | 04/29/2017 | | Seeck | |
| Zabkowice | Golden Pansy | Bowl | Oval | | | Marigold | 110.00 | 04/29/2017 | | Seeck | |
| Zabkowice | Golden Poppies Variant | Bowl | Oval | Small | | Marigold | 110.00 | 04/29/2017 | | Seeck | |
| Zabkowice | Golden Carp | Bowl | Oval | | | Marigold | 525.00 | 03/11/2017 | | Seeck | |
| Zabkowice | Golden Cupid | Bowl | Round | Sauce | | Marigold | 250.00 | 08/28/2016 | | Seeck | |
| Zabkowice | Golden Poppies Variant | Bowl | Oval | Small | | Marigold | 55.00 | 08/14/2016 | | Seeck | |
| Zabkowice | Golden Pansy | Bowl | Round | Sauce | | Marigold | 45.00 | 08/14/2016 | tiny pinpoint on edge | Seeck | |
| Zabkowice | Golden Pansy and Leaves | Bowl | ICS | | | Marigold | 35.00 | 08/07/2016 | | Seeck | |
| Zabkowice | Golden Thistle | Bowl | Round | | | Marigold | 225.00 | 12/13/2015 | | Seeck | |
| Zabkowice | Golden Pansy | Bowl | Oval | | | Marigold | 130.00 | 09/19/2015 | | Seeck | |
| Zabkowice | Golden Cupid | Bowl | Round | Sauce | | Marigold | 225.00 | 06/21/2015 | | Seeck | |
| Zabkowice | Golden Pineapple | Bowl | ICS | | | Marigold | 260.00 | 03/16/2013 | | Seeck | |
| Zabkowice | Golden Cupid | Bowl | Round | Sauce | | Marigold | 55.00 | 11/12/2011 | | Wroda | |
| Zabkowice | Golden Pansy and Leaves | Plate | | | | Marigold | 150.00 | 08/28/2016 | | Seeck | |
| Zabkowice | Golden Fruits | Plate | | | | Marigold | 70.00 | 08/07/2016 | | Seeck | |