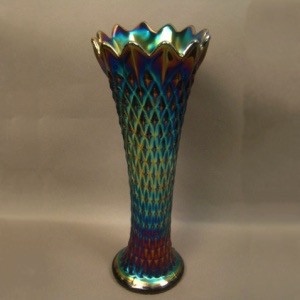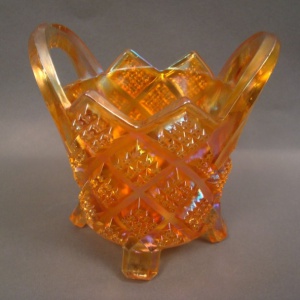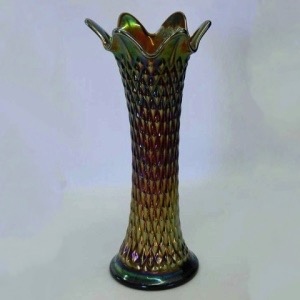 Manufacturer: Northwood
Year(s) of Production: 1909 - 1912 Butler Bros Catalog
Pattern Description: Raised diamonds cover almost the entire exterior of these standard vases; the baskets have large diamonds containing 9 raised squares.
Similar Patterns: Fenton Diamond Point Columns
Shapes in Database: Basket, Vase
Colors in Database: Amethyst/Purple, Aqua Opal, Aqua Opal Butterscotch, Black Amethyst, Blue, Electric Blue, Emerald Green, Green, Green/Marigold Overlay, Horehound, Ice Blue, Ice Green, Lavender, Lime Green, Marigold, Powder Blue, Renninger Blue, Sapphire Blue, Sapphire Blue/Marigold Overlay, Smoke, White*
*Not all colors are available in every shape.
About Diamond Point
Diamond Point vases are covered with raised diamonds while the baskets have diamond shapes containing 9 raised squares. The vases are pictured in the Butler Bros Catalogs from 1909 – 1912.
Available shapes are: