Cherry and Cable, Northwood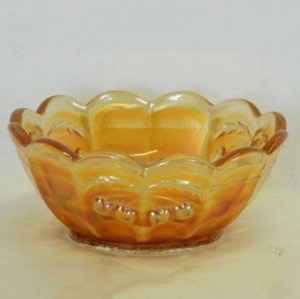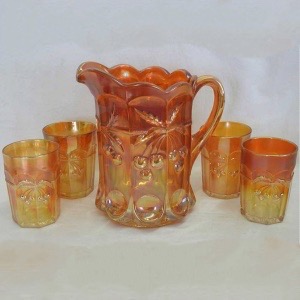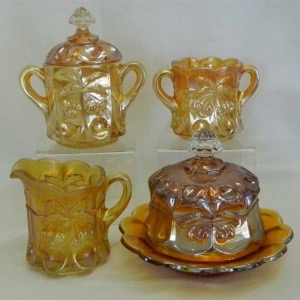 Manufacturer:
Northwood
Year(s) of Production:
Circa 1908
Pattern Description:
A cable circles the top portion of this pattern. Cherry leaves with two groups of three cherries hang off the cable.
Similar Patterns:
Northwood Grape & Cable, Fenton Grape & Cable
Shapes in Database:
Berry Set, Bowl, Butter Dish, Creamer, Pitcher, Spooner, Sugar, Sugar Base, Table Set, Tumbler, Water Set
Colors in Database*:
Blue, Marigold
*Not all colors are available in every shape.
About Cherry and Cable
All pieces have a wide panel or flute pattern. A cable encircles each piece slightly above center and two groups of cherry clusters and leaves hang from the cable. Each set of cherries consists of 2 clusters of 3 cherries each.
The reported shapes include:
• Berry Sets (including large bowls and sauces) (see berryset-cherrycable)
• Table Sets  (including Butter Dish/Creamer/Spooner/Sugar) (see tset-cherrycable)
• Water Sets  (including Pitcher/Tumbler) (see waterset-cherrycable)