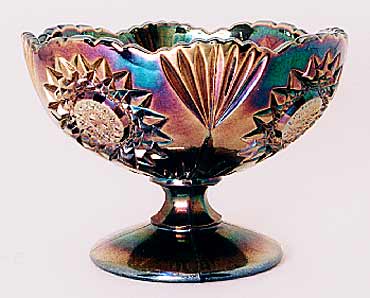 This pattern was named for the Danish lady who first discovered the pattern. The pattern consists of large hobstars separated by fan shapes. The base has a multi-point star.
This blue example sold for $290 in 2001. In 2005, another blue example sold at live auction for $185 and one on eBay brought $140. In 2014 two sold for $50 and $75.
Also known in a bowl.
Total Records Found: 3, showing 100 per page

| MFG | Pattern | Shape | Edge Treatment | General Size | Extra Detail | Color | Price | Sale Date | Damage | Auctioneer | Photo1 |
| --- | --- | --- | --- | --- | --- | --- | --- | --- | --- | --- | --- |
| Brockwitz | Charlotte | Compote | | | | Blue | 20.00 | 05/12/2019 | | Seeck | |
| Brockwitz | Charlotte | Compote | | | | Blue | 75.00 | 08/31/2014 | | Seeck | |
| Brockwitz | Charlotte | Compote | | | | Blue | 50.00 | 06/14/2014 | | Seeck | |