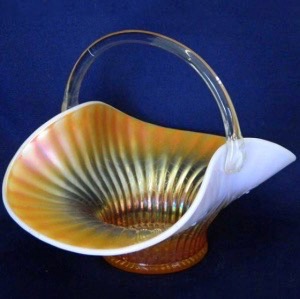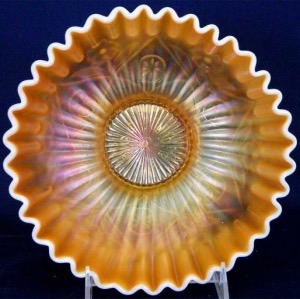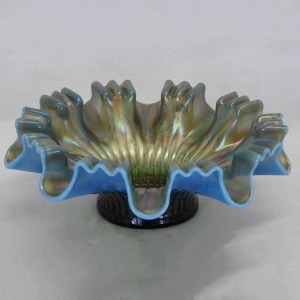 Manufacturer: Dugan
Year(s) of Production: Circa 1910
Pattern Description: Exterior pattern consists of lines from a six pointed star around the base and within each star point is a small flower in a circle, base contains flower pattern.Smooth rays go all the way to the center on the inside.
Similar Patterns: Dugan Single Flower Framed
Shapes in Database: Basket, Bowl
Colors in Database*: Amethyst/Purple, Blue Opal, Peach Opal
*Not all colors are available in every shape.
About Caroline
The pattern on the exterior is made up of overlapping arches with a single star in a circle coming up in the middle of the large arch, and a 5 petaled flower with 2 leaves at a 70 degree angle on top of the small arches. The base has a pattern with a 9 pointed flower. The interior is smooth rays, going all the way to the center of the pattern where there is a small raised dot.
The reported shapes include: