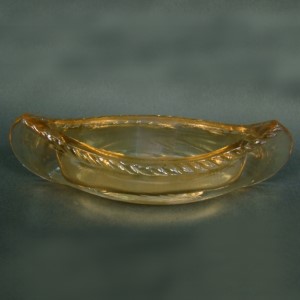 Manufacturer: US Glass
Year(s) of Production: Circa 1914
Pattern Description: Canoe shape, unpatterned with a braided rope around the top edge.
Similar Patterns:
About Canoe
Novelty piece in the shape of a canoe about 6 inches in length. Body is glass without a pattern and there is a braided rope like pattern surrounding the top edge. May be found with souvenir writing.
HoC Pricing Database
Select a shape below (available colors will display)