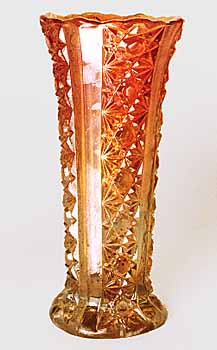 Little is known about this vase. It was photographed while in the collection of the late John Britt and measures 8 inches tall with a 3 1/4-inch base. It has been identified as a Josef Rindskopf piece, but then the message below from Paul Kirk arrived so there is some doubt now.
In July 2004, Paul Kirk sent the following note:
I do not know the origin of this particular vase, but can tell you that the pattern is Duncan's Clover, introduced, I believe around 1905. Probably another instance of American patterns that were copied by European companies in iridized glass.
In 2007, two marigold vases listed as Cane Panels sold for $130 and $200, respectively.
Total Records Found: 2, showing 100 per page

| MFG | Pattern | Shape | Edge Treatment | General Size | Extra Detail | Color | Price | Sale Date | Damage | Auctioneer | Photo1 |
| --- | --- | --- | --- | --- | --- | --- | --- | --- | --- | --- | --- |
| Rindskopf | Cane Panels | Vase | | | | Marigold | 160.00 | 11/11/2018 | Chip on Base | Seeck | |
| Rindskopf | Cane Panels | Vase | | | | Marigold | 10.00 | 02/26/2011 | Base chips | Seeck | |