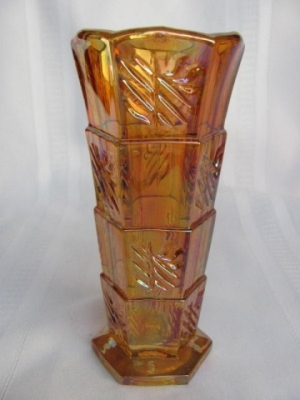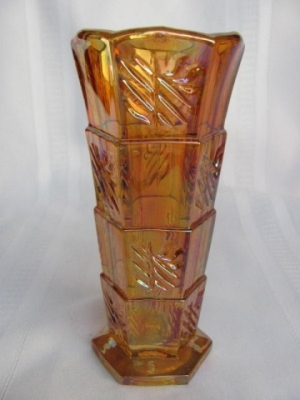 Manufacturer: Hortensja
Year(s) of Production: Unknown
Pattern Description: Six-sided cubes (each one larger) are stacked. Alternate sides have broken lines running diagonally giving an art deco look.
Similar Patterns: Inwald Nola(Paneled Twigs)
Shapes in Database: Vase
Colors in Database*: Marigold
*Not all colors are available in every shape.
About Athina
This pattern is very art deco, made up of 6-sided cubes stacked up. Alternating panels have broken diagonal lines. The base is six sided. There are two variations of vase, 3 tier and 4 tier. The 3 tier comes in a 4 1/4″ tall while the 4 tier comes in 3 taller heights: 6 3/8″, 8″ and 10″.