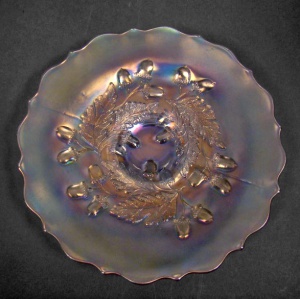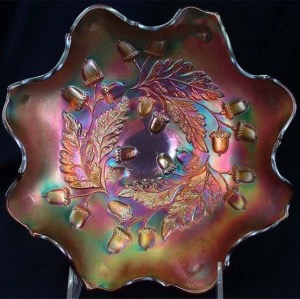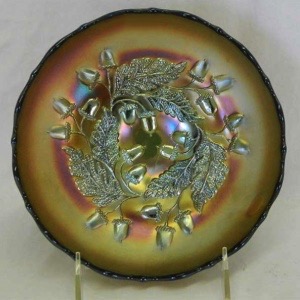 Manufacturer: Fenton
Year(s) of Production: 1910 Butler Bros Catalog
Pattern Description: Three pairs of acorn leaves arranged around the center of the piece with clusters of acorns facing both the center and outer edge.
Similar Patterns: Fenton Autumn Acorns
Shapes in Database: Bowl, Plate
Colors in Database*: Amber, Amber Opal, Amberina, Amethyst/Purple, Aqua/Marigold Overlay, Black Amethyst, Blue, Green, Ice Blue, Lavender/Marigold Overlay, Lime Green/Marigold Overlay, Marigold, Marigold on Milk Glass, Marigold on Moonstone, Peach Opal, Powder Blue/Marigold Overlay, Red, Red Slag, Vaseline/Marigold Overlay, White, Yellow/Marigold Overlay
*Not all colors are available in every shape.
About Acorn
Swirling around an empty center are three pairs of acorn leaves with acorns. The Fenton Acorn pieces have the "bracket" edge used on other Fenton patterns. The bowls come in a large variety of colors, while the scarcer plates are in a more limited amount of colors.
All pieces come from one mould.
The reported shapes include: