Page last updated November 20, 2017
Novelties and Miniatures, page 2
We're all so used to thinking in terms of plates, bowls, compotes, pitchers and so on when we think of Carnival Glass, that we seldom realize that there are some interesting items out there that don't fall into any of the usual categories. Below are a few I've photographed over the years.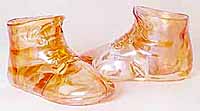 Almost large enough for a real baby, the miniature boots are from the collection of Carl and Eunice Booker.
Rare piece of Carnival glass. Smaller than actual banana. A similar piece sold in 2012 for $350.(Believed to be Murano art glass.)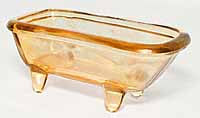 This miniature marigold bathtub sold for $65 in 1994. Rare.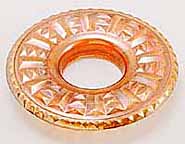 These little objects are called Bobeches (bo-ba-shay) and are placed over candlesticks to prevent wax from dripping on the table.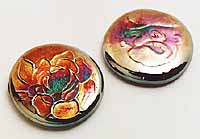 These little rosettes were used to decorate horse's bridles. The one on the left has a rose design, on the right is Popeye. Courtesy of Carl and Eunice Booker.
Fenton Butterfly ornaments.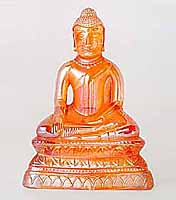 A really odd object to see in Carnival. Six inches tall, these Buddhas were probably intended as purely decorative pieces.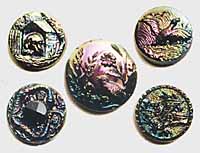 Buttons are found in a large range of sizes and subjects. Prices also vary widely depending on desirability. Often, groups of them are mounted on cards.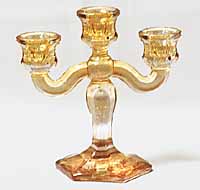 These 4 1/2 inch tall candelabras are very rare. They were made by Westmoreland.More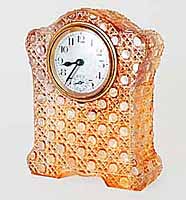 This clock was photographed while in the collection of the late John Britt. Just over 5 inches tall and the pattern is called Regal Cane. It sold at a 1998 auction for $425.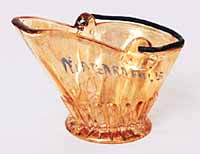 Most of these coal buckets have souvenir lettering and sell for between $70 and $100 in either marigold or green.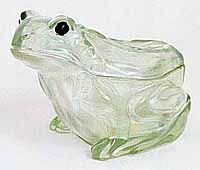 These covered frog containers sell for between $500 and $650. Also reported in marigold, ice blue, ice green, amethyst, lavender, vaseline, and white.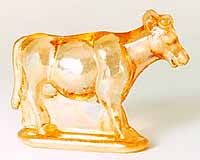 Few pieces of Carnival have the charm of this 3 3/8 inch long miniature cow– which seems to be smiling. Courtesy of Jack and Eleanor Hamilton.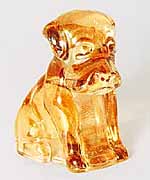 This rather sad-looking hound is from the collection of Carl and Eunice Booker.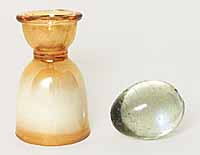 This egg cup and iridized egg are also from the collecction of Carl and Eunice Booker.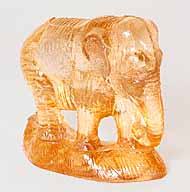 Almost 3 inches long, this elephant paperweight sold for $700 at a 1998 auction.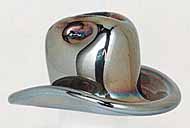 In blue, this hat is 3 inches long. It is in the collection of Jack and Eleanor Hamilton.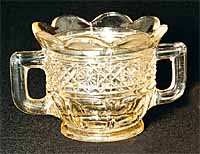 Made by Higbee, this Hawaiian Lei child's sugar dish is 2 1/4 inches tall. Owned by the late Jack and Eleanor Hamilton.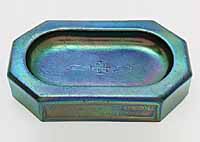 Imperial Paperweight is 5 1/2 inches long and has the NUCUT, Iron Cross, and NUART marks on the inside bottom.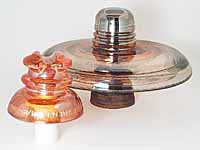 For information on insulators, click
here
.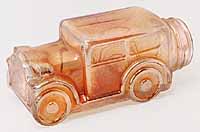 This unusual car-shaped bottle is one of two that were specially iridized according to the owners, Rick and Jackie Kojis.