Page last updated January 5, 2016
Classic Era Maker Marks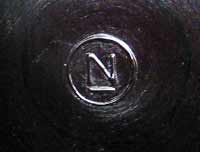 Northwood
The underlined "N" in a circle is the most frequently seen mark in classic era Carnival. Not all Northwood patterns carry the mark, and in some patterns that do carry the mark, not all pieces may have it. Generally it's a good guide to the authenticity of a piece, but bear in mind that Wright issued several patterns (primarily the Grape and Cable butter dish and Grape Delight nut bowl) with the mark. They were later forced to change the mark. The absence or presence of the mark makes little difference in the value or desirability.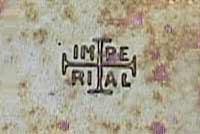 Imperial Iron Cross Mark
Very few pieces of Imperial Carnival Glass were marked in any way. This Iron Cross mark appears on some stretch glass, primarily Imperial Jewels, and a few Carnial patterns. Carnival patterns for which I have occasional listings showing this mark are Chesterfield, Colonial (Flute), Imperial Grape, Optic and Buttons, Pillar Flute, Smooth Panels vases, and Waffle Block.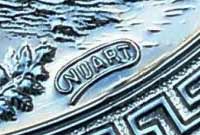 Imperial NUART Mark
The NUART mark is found primarily on some, but not all, examples of the Chrysanthemum and Homestead chop plates. The examples with the mark are generally more desirable. The mark is also seen on the Imperial Paperweight, along with the similar NUCUT mark and the Iron Cross mark.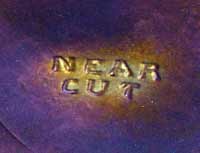 Cambridge NEAR CUT Mark
The NEAR CUT mark is always found in capital letters with "NEAR" above "CUT." Mostly seen on some, but not all, Inverted Strawberry pieces, it is also found, rarely, on Double Star, Inverted Feather and Inverted Thistle items.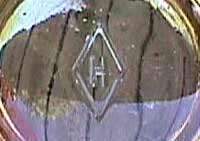 Heisey Mark
The Heisey mark consists of a capital "H" in a diamond. It was registered in 1901 although first used in 1900. Heisey produced very little Carnival Glass.
Contemporary Maker Marks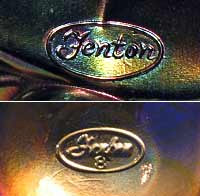 Fenton Marks
When Fenton introduced its lines or reissued Carnival Glass in 1970, they marked the glass with an oval with the word "Fenton" in script inside. In 1980, they reduced the size of the mark and included a numeral designating the decade ("8" for 1980s, "9" for 1990s, "0" for 2000).
For patterns made from molds bought from other glass makers, Fenton uses a script "F" within a vertical oval.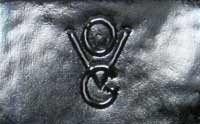 OVG (Olde Virginia Glass, Fenton)
In 1971, Fenton added Carnival items to it's Olde Virginia Glass line. These are marked with the capital letters "O," "V," and "G," stacked vertically.
Imperial Marks
Devised in 1951, Imperial used this mark on their glass until 1972. The mark has a capital "G" superimposed over a stylized letter "I."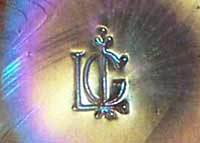 In 1972, Lenox purchased Imperial. As a result, they added the letter "L" to the mark. This was used until 1981.
In 1981, the company was sold to Arthur Lorch, who added a slanted capital "A" the mark, forming "ALIG." This mark was used during 1981 and 1982.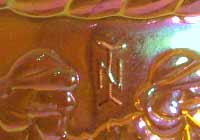 In 1982, the company was sold to Robert Stahl. He devised a new mark with a capital "N" superimposed over the stylized "I," which stood for New Imperial. I've only seen this mark on a Santa Bell, which may have been the only item made as Mr. Stahl declared bankruptcy in 1984.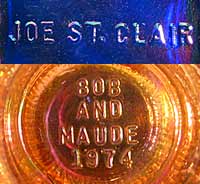 St. Clair Marks
A number of the family members of the St. Clair clan made Carnival Glass. Joe signed his in a number of ways which included just St. Clair or JST.C. The Bob (Joe's younger brother) and Maude mark is typical of theirs.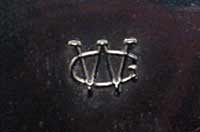 Westmoreland WG Mark
According to Lorraine Kovar in her book, The Westmoreland Story, the mark with intertwined "W" and "G" was used after the 1940s. However, just because a piece has this mark doesn't mean it dates from this period: Westmoreland molds have been passed along to other glass makers who are not always diligent about removing the mark.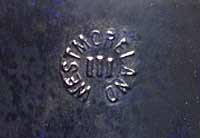 Westmoreland Grossman Mark
In 1981, David Grossman bought Westmoreland. He devised a new mark with the word "WESTMORELAND" in a circle around three vertical bars that apparently represent a stylized "W." Production ended in early 1984.
Westmoreland used paper labels on much of their glass, but these can be misleading as rolls of stickers were available long after production ended.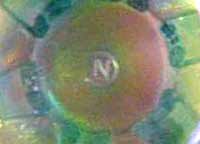 L.G. Wright "N" Mark
Wright produced several patterns in Carnival glass using the original Northwood mark. This one is from an ice blue Grape Delight nut bowl (which was a Dugan pattern, not Northwood). The American Carnival Glass Association filed suit, prohibiting Wright from using the Northwood mark. The ACGA now owns the mark.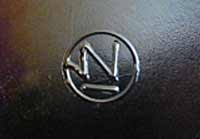 L.G. Wright Modified "N" Mark
After being forbidden from using the Northwood mark, Wright apparently fudged, and simply put a small tail on the left-side vertical bar of the "N," making it a sort of crooked "W." These marks are still found on Wright glass from that era.
L.G. Wright Current Mark
L.G. Wright now uses a mark that is clearly a