Page last updated August 4, 2016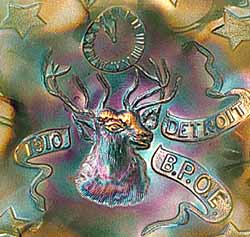 Early Carnival Glass makers were not about to overlook the lucrative business of providing special orders for promotional items or commemorative use. Most major manufacturers, with the exception of Imperial, made such items–either modifying existing patterns by adding the appropriate design and text, or by creating the design from scratch.
Most advertising and commemorative pieces are in short supply. They were no doubt originally made in substantial quantities, but many were likely discarded as they were viewed as tacky promotional objects. Wouldn't the original owners be stunned by the prices they now bring at auction?