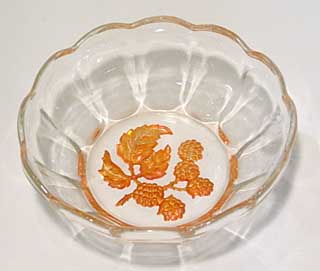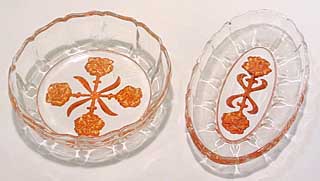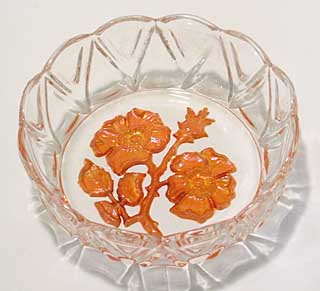 Left – Golden Blackberries, Center – Golden Pansies, Right – Golden Poppies
There are quite a few patterns done in this unique treatment with the pattern incised into the exterior base of the glass, and always in marigold.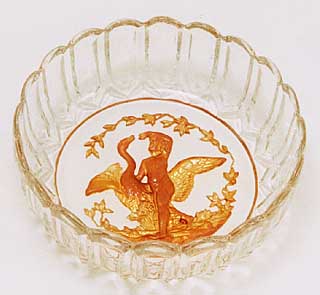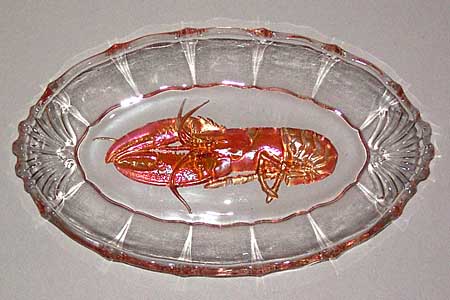 Here is another, called Golden Boy with Swan. This example sold at auction in 1999 for $345 under the name Intaglio Boy and Swan (reportedly one of two known). Other patterns that appear in this style include Diana the Huntress, and Golden Cupid. Above right is another interesting variation on the Golden patterns was sent by Michael and Cindy Ostrosky. This is the larger version, 11 inches long by 6 1/2 inches wide. They also have five smaller bowls, 5 1/2 inches by 3 3/8 inches.
Other similar pieces can be seen here: Diana the Huntress, Golden Cupid
Note that the following prices reflect auction sales, often established more by the interest at that particular auction rather than intrinsic value.
Golden Blackberries
Bowl, 5-5 1/2″, 25 (1999), 120 (2004)
Golden Pansies
Bowl, 4 1/2″, 55, 60, 70 (all 1999), 30 (2002), 160 (2004)
Bowl, 8″, 20, 70, 95 (all 2000), 60 (2008)
Berry set, 5 piece, 15 (2010)
Plate, 5 3/4″, 125 (1998)
Pin tray, 6″ oval, 200 (2004), 130 (2010)
Relish tray, 10 1/4″ x 5 3/4″, 175 (1999)
Golden Plums
Bowl, 4 3/4″, 25 (2002)
Golden Poppies
Bowl, 4 1/2″, 40 (1999), 45 (2000), 135 (2004)
Bowl, 8″, 170 (2000)
Golden Thistle
Bowl, 4″, 110 (1999)
Dresser tray, 10 1/2″ x 6″, 250 (1999)
Plates, 5″, 50 (2000), 55 (2008)
Total Records Found: 20, showing 100 per page

| MFG | Pattern | Shape | Edge Treatment | General Size | Extra Detail | Color | Price | Sale Date | Damage | Auctioneer | Photo1 | Photo2 | Photo3 |
| --- | --- | --- | --- | --- | --- | --- | --- | --- | --- | --- | --- | --- | --- |
| Zabkowice | Golden Pansy | Bowl | Oval | | | Marigold | 275.00 | 06/06/2019 | | Seeck | | | |
| Zabkowice | Golden Carp | Bowl | Oval | | | Marigold | 350.00 | 03/24/2018 | | Seeck | | | |
| Zabkowice | Golden Blackberry | Bowl | Round | | | Marigold | 110.00 | 12/03/2017 | | Seeck | | | |
| Zabkowice | Golden Cupid | Bowl | Round | Sauce | | Marigold | 300.00 | 09/23/2017 | | Seeck | | | |
| Zabkowice | Golden Poppies Variant | Bowl | Oval | Small | | Marigold | 75.00 | 06/25/2017 | | Seeck | | | |
| Zabkowice | Golden Pansy | Bowl | Oval | | | Marigold | 75.00 | 04/29/2017 | | Seeck | | | |
| Zabkowice | Golden Pansy | Bowl | Oval | | | Marigold | 110.00 | 04/29/2017 | | Seeck | | | |
| Zabkowice | Golden Poppies Variant | Bowl | Oval | Small | | Marigold | 110.00 | 04/29/2017 | | Seeck | | | |
| Zabkowice | Golden Carp | Bowl | Oval | | | Marigold | 525.00 | 03/11/2017 | | Seeck | | | |
| Zabkowice | Golden Cupid | Bowl | Round | Sauce | | Marigold | 250.00 | 08/28/2016 | | Seeck | | | |
| Zabkowice | Golden Poppies Variant | Bowl | Oval | Small | | Marigold | 55.00 | 08/14/2016 | | Seeck | | | |
| Zabkowice | Golden Pansy | Bowl | Round | Sauce | | Marigold | 45.00 | 08/14/2016 | tiny pinpoint on edge | Seeck | | | |
| Zabkowice | Golden Pansy and Leaves | Bowl | ICS | | | Marigold | 35.00 | 08/07/2016 | | Seeck | | | |
| Zabkowice | Golden Thistle | Bowl | Round | | | Marigold | 225.00 | 12/13/2015 | | Seeck | | | |
| Zabkowice | Golden Pansy | Bowl | Oval | | | Marigold | 130.00 | 09/19/2015 | | Seeck | | | |
| Zabkowice | Golden Cupid | Bowl | Round | Sauce | | Marigold | 225.00 | 06/21/2015 | | Seeck | | | |
| Zabkowice | Golden Pineapple | Bowl | ICS | | | Marigold | 260.00 | 03/16/2013 | | Seeck | | | |
| Zabkowice | Golden Cupid | Bowl | Round | Sauce | | Marigold | 55.00 | 11/12/2011 | | Wroda | | | |
| Zabkowice | Golden Pansy and Leaves | Plate | | | | Marigold | 150.00 | 08/28/2016 | | Seeck | | | |
| Zabkowice | Golden Fruits | Plate | | | | Marigold | 70.00 | 08/07/2016 | | Seeck | | | |