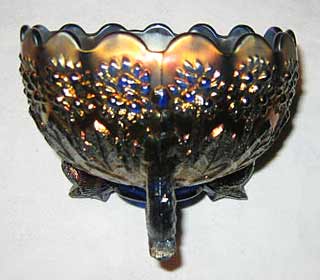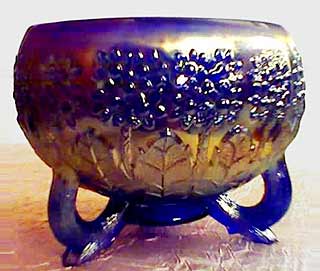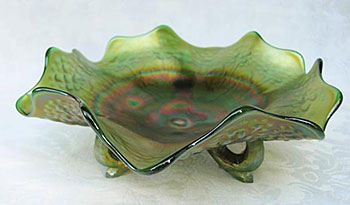 Top left is an example of the nut bowl shape, which has the sides either straight as shown here or flared out. Courtesy of Lee Markley.
Above (center) is a rare smooth-top example in blue. The photo was sent to me in 2006 by Shad Wooten, who had picked it up on eBay for $74.
And on the right is a rare green ruffled bowl, whimsied from a rosebowl, which sold in 2014 for $180.
This pattern is listed with Fenton's Orange Tree as that's the pattern on the exterior, but tradition had it that it be called Fenton's Flowers. When purchasing these pieces, look carefully at the feet; they're very succeptible to damage. This rosebowl, in red with an amberina base, sold for $3,500 in 1997 (with a foot flake). Fenton used the pattern on contemporary pieces, sometimes with Lions as the interior pattern.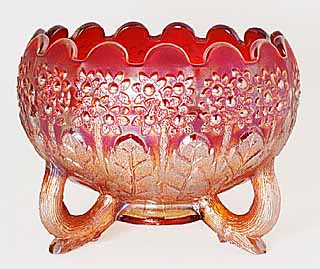 Rosebowls
Amethyst, 75 (2008), 85 (2010), 55 (2013)
Blue, 35, 45, 50 (2009), 90, 110 (2013), 25 (2015)
Blue, powder, 55 (2006)
Blue, smokey, 75 (2003)
Blue, rare smooth top, 85 (2010), 90 (2013)
Green, 175 (2008), 45 (2009), 75 (2010), 75 (2011)
Green, 8 1/2-inch ruffled whimsey, 180 (2014)
Lavender, 60 (2012)
Lime green, 225 (1998), 150 (2002)
Lime green opal, 375 (1997), 450 (2003)
Marigold, 15, 20, 23 (2012), 25, 30 (2013), 10, 15 (2014)
Marigold, pastel irid., 75 (2015)
Peach opal, 1,300 (2001)
Red, 425 (2001), 550 (2009), 475 (2013), 50 (2015)
Red, amberina base, foot flake, 3,500 (1997)
Smoke, 450 (1994), 375 (2013)
Teal, foot chip, 65 (2000)
Vaseline, 250 (1997), 375 (2001), 185 (2010)
White, 85 (2011), 65 (2012), 35, 155 (2013)
Nut bowls (flared rather than cupped in)
Amethyst, 80 (1998), 65 (2003)
Blue, 425 (1997), 200 (2013)
Green, 85 (2007)
Marigold, 25-45
Total Records Found: 92, showing 100 per page

| MFG | Pattern | Shape | Edge Treatment | General Size | Extra Detail | Color | Price | Sale Date | Damage | Auctioneer | Photo1 | Photo2 | Photo3 |
| --- | --- | --- | --- | --- | --- | --- | --- | --- | --- | --- | --- | --- | --- |
| Fenton | Orange Tree | Candy Dish | Round | | Made From Rose Bowl | Blue | 200.00 | 04/27/2013 | | Seeck | | | |
| Fenton | Orange Tree | Candy Dish | Ruffled | | Flattened, made from Rose Bowl | Green | 180.00 | 02/08/2014 | | Burns | | | |
| Fenton | Orange Tree | Nut Bowl | | | | Amethyst/Purple | 50.00 | 11/02/2012 | Chip on toe | Burns | | | |
| Fenton | Orange Tree | Nut Bowl | | | | Green | 65.00 | 01/13/2018 | | Wroda | | | |
| Fenton | Orange Tree | Nut Bowl | | | | Green | 25.00 | 12/03/2016 | | Wroda | | | |
| Fenton | Orange Tree | Rose Bowl | | | | Amethyst/Purple | 25.00 | 06/30/2019 | Crack in Base | Seeck | | | |
| Fenton | Orange Tree | Rose Bowl | | | | Amethyst/Purple | 45.00 | 12/03/2017 | | Seeck | | | |
| Fenton | Orange Tree | Rose Bowl | | | | Amethyst/Purple | 20.00 | 05/13/2017 | | Wroda | | | |
| Fenton | Orange Tree | Rose Bowl | | | | Amethyst/Purple | 40.00 | 01/29/2017 | Chip on foot | Seeck | | | |
| Fenton | Orange Tree | Rose Bowl | | | | Amethyst/Purple | 55.00 | 06/01/2013 | | Seeck | | | |
| Fenton | Orange Tree | Rose Bowl | | | | Amethyst/Purple | 60.00 | 05/05/2012 | | Wroda | | | |
| Fenton | Orange Tree | Rose Bowl | | | | Black Amethyst | 25.00 | 10/26/2013 | | Wroda | | | |
| Fenton | Orange Tree | Rose Bowl | | | | Blue | 45.00 | 08/25/2019 | | Seeck | | | |
| Fenton | Orange Tree | Rose Bowl | Smooth Top | | | Blue | 15.00 | 05/12/2019 | Chip on foot | Seeck | | | |
| Fenton | Orange Tree | Rose Bowl | | | | Blue | 80.00 | 12/02/2018 | | Seeck | | | |
| Fenton | Orange Tree | Rose Bowl | | | | Blue | 15.00 | 09/08/2018 | | Wroda | | | |
| Fenton | Orange Tree | Rose Bowl | Smooth Top | | | Blue | 85.00 | 09/08/2018 | | Burns | | | |
| Fenton | Orange Tree | Rose Bowl | | | | Blue | 20.00 | 01/13/2018 | | Wroda | | | |
| Fenton | Orange Tree | Rose Bowl | | | | Blue | 25.00 | 09/02/2017 | | Wroda | | | |
| Fenton | Orange Tree | Rose Bowl | | | | Blue | 20.00 | 09/02/2017 | | Wroda | | | |
| Fenton | Orange Tree | Rose Bowl | | | | Blue | 10.00 | 06/03/2017 | Damaged base and foot | Burns | | | |
| Fenton | Orange Tree | Rose Bowl | | | | Blue | 40.00 | 12/04/2016 | slight rub on toe | Seeck | | | |
| Fenton | Orange Tree | Rose Bowl | | | | Blue | 15.00 | 10/29/2016 | Chip on one foot | Burns | | | |
| Fenton | Orange Tree | Rose Bowl | | | | Blue | 35.00 | 05/14/2016 | | Wroda | | | |
| Fenton | Orange Tree | Rose Bowl | | | | Blue | 15.00 | 03/12/2016 | | Burns | | | |
| Fenton | Orange Tree | Rose Bowl | | | | Blue | 30.00 | 10/24/2015 | | Woody | | | |
| Fenton | Orange Tree | Rose Bowl | | | | Blue | 25.00 | 02/22/2015 | | Wroda | | | |
| Fenton | Orange Tree | Rose Bowl | | | | Blue | 15.00 | 04/05/2014 | | Wroda | | | |
| Fenton | Orange Tree | Rose Bowl | | | | Blue | 110.00 | 12/08/2013 | | Seeck | | | |
| Fenton | Orange Tree | Rose Bowl | | | | Blue | 90.00 | 11/16/2013 | | Seeck | | | |
| Fenton | Orange Tree | Rose Bowl | | | | Blue | 20.00 | 11/02/2013 | | Burns | | | |
| Fenton | Orange Tree | Rose Bowl | | | | Blue | 65.00 | 08/10/2013 | Chips on feet | Seeck | | | |
| Fenton | Orange Tree | Rose Bowl | | | | Blue | 110.00 | 08/10/2013 | Nicks on feet | Seeck | | | |
| Fenton | Orange Tree | Rose Bowl | | | | Blue | 5.00 | 02/01/2013 | Damaged Feet | Burns | | | |
| Fenton | Orange Tree | Rose Bowl | | | | Blue | 30.00 | 11/25/2012 | Chip on Foot | Seeck | | | |
| Fenton | Orange Tree | Rose Bowl | | | | Green | 30.00 | 11/17/2019 | | Seeck | | | |
| Fenton | Orange Tree | Rose Bowl | | | | Green | 65.00 | 09/07/2019 | | Wroda | | | |
| Fenton | Orange Tree | Rose Bowl | | | | Green | 40.00 | 04/13/2019 | | Wroda | | | |
| Fenton | Orange Tree | Rose Bowl | | | | Green | 30.00 | 01/27/2019 | Irids inside only | Seeck | | | |
| Fenton | Orange Tree | Rose Bowl | | | | Green | 45.00 | 09/08/2018 | | Burns | | | |
| Fenton | Orange Tree | Rose Bowl | | | | Green | 30.00 | 03/18/2017 | | Wroda | | | |
| Fenton | Orange Tree | Rose Bowl | | | | Green | 30.00 | 11/12/2016 | | Burns | | | |
| Fenton | Orange Tree | Rose Bowl | | | | Green | 15.00 | 02/12/2016 | Chip on toe | Burns | | | |
| Fenton | Orange Tree | Rose Bowl | | | | Green | 35.00 | 10/17/2015 | | Wroda | | | |
| Fenton | Orange Tree | Rose Bowl | | | | Green | 25.00 | 08/01/2015 | | Burns | | | |
| Fenton | Orange Tree | Rose Bowl | | | | Green | 50.00 | 03/28/2012 | Chips on feet | Seeck | | | |
| Fenton | Orange Tree | Rose Bowl | | | | Green | 75.00 | 11/05/2011 | | Seeck | | | |
| Fenton | Orange Tree | Rose Bowl | | | | Lavender | 35.00 | 06/26/2016 | very minor nick on toe | Seeck | | | |
| Fenton | Orange Tree | Rose Bowl | | | | Marigold | 10.00 | 04/13/2019 | | Wroda | | | |
| Fenton | Orange Tree | Rose Bowl | | | | Marigold | 10.00 | 01/27/2019 | chip on toe | Seeck | | | |
| Fenton | Orange Tree | Rose Bowl | | | | Marigold | 10.00 | 09/08/2018 | | Wroda | | | |
| Fenton | Orange Tree | Rose Bowl | | | | Marigold | 10.00 | 09/08/2018 | | Wroda | | | |
| Fenton | Orange Tree | Rose Bowl | | | | Marigold | 25.00 | 09/08/2018 | | Wroda | | | |
| Fenton | Orange Tree | Rose Bowl | | | | Marigold | 10.00 | 09/07/2018 | | Wroda | | | |
| Fenton | Orange Tree | Rose Bowl | | | | Marigold | 10.00 | 05/08/2018 | | Wroda | | | |
| Fenton | Orange Tree | Rose Bowl | | | | Marigold | 10.00 | 04/21/2018 | | Wroda | | | |
| Fenton | Orange Tree | Rose Bowl | | | | Marigold | 10.00 | 09/09/2017 | Chips on Feet | Burns | | | |
| Fenton | Orange Tree | Rose Bowl | | | | Marigold | 75.00 | 06/19/2015 | | Wroda | | | |
| Fenton | Orange Tree | Rose Bowl | | | | Marigold | 10.00 | 01/06/2015 | | Wroda | | | |
| Fenton | Orange Tree | Rose Bowl | | | | Marigold | 15.00 | 10/11/2014 | | Wroda | | | |
| Fenton | Orange Tree | Rose Bowl | | | | Marigold | 10.00 | 05/25/2014 | | Seeck | | | |
| Fenton | Orange Tree | Rose Bowl | | | | Marigold | 25.00 | 11/02/2013 | | Burns | | | |
| Fenton | Orange Tree | Rose Bowl | | | | Marigold | 30.00 | 08/10/2013 | | Seeck | | | |
| Fenton | Orange Tree | Rose Bowl | | | | Marigold | 2.00 | 11/17/2012 | Chipped, foot missing | Wroda | | | |
| Fenton | Orange Tree | Rose Bowl | | | | Marigold | 10.00 | 11/17/2012 | | Wroda | | | |
| Fenton | Orange Tree | Rose Bowl | | | | Marigold | 15.00 | 10/07/2012 | Chip on Foot | Seeck | | | |
| Fenton | Orange Tree | Rose Bowl | | | | Marigold | 10.00 | 07/25/2012 | | Wroda | | | |
| Fenton | Orange Tree | Rose Bowl | | | | Marigold | 15.00 | 05/26/2012 | | Wroda | | | |
| Fenton | Orange Tree | Rose Bowl | | | | Marigold | 20.00 | 01/11/2012 | | Seeck | | | |
| Fenton | Orange Tree | Rose Bowl | | | | Marigold | 15.00 | 12/03/2011 | | Wroda | | | |
| Fenton | Orange Tree | Rose Bowl | | | | Marigold | 25.00 | 11/05/2011 | | Seeck | | | |
| Fenton | Orange Tree | Rose Bowl | | | | Marigold | 20.00 | 10/08/2011 | | Wroda | | | |
| Fenton | Orange Tree | Rose Bowl | | | | Peach Opal | 1,200.00 | 06/15/2019 | | Wroda | | | |
| Fenton | Orange Tree | Rose Bowl | | | | Powder Blue/Marigold Overlay | 450.00 | 04/02/2016 | | Reichel | | | |
| Fenton | Orange Tree | Rose Bowl | | | | Red | 40.00 | 10/19/2019 | | Burns | | | |
| Fenton | Orange Tree | Rose Bowl | | | | Red | 825.00 | 06/15/2019 | Chip on Feet | Wroda | | | |
| Fenton | Orange Tree | Rose Bowl | | | | Red | 500.00 | 04/14/2018 | | Burns | | | |
| Fenton | Orange Tree | Rose Bowl | | | | Red | 50.00 | 10/01/2016 | Cracked with damaged feet | Burns | | | |
| Fenton | Orange Tree | Rose Bowl | | | | Red | 100.00 | 08/01/2015 | Tips of Toes are Rough | Burns | | | |
| Fenton | Orange Tree | Rose Bowl | | | | Red | 45.00 | 09/07/2013 | Foot nick, tooth miossing | Seeck | | | |
| Fenton | Orange Tree | Rose Bowl | | | | Red | 475.00 | 04/27/2013 | Pinpoint on top edge | Seeck | | | |
| Fenton | Orange Tree | Rose Bowl | | | | Smoke | 375.00 | 12/08/2013 | | Seeck | | | |
| Fenton | Orange Tree | Rose Bowl | | | | White | 40.00 | 05/18/2019 | | Burns | | | |
| Fenton | Orange Tree | Rose Bowl | | | | White | 36.00 | 01/05/2019 | | Woody | | | |
| Fenton | Orange Tree | Rose Bowl | | | | White | 25.00 | 10/27/2018 | | Wroda | | | |
| Fenton | Orange Tree | Rose Bowl | | | | White | 50.00 | 06/17/2018 | Pushed Leg | Seeck | | | |
| Fenton | Orange Tree | Rose Bowl | | | | White | 10.00 | 03/30/2014 | Chip on toe | Seeck | | | |
| Fenton | Orange Tree | Rose Bowl | | | | White | 30.00 | 03/02/2014 | Manufacture sharp points | Seeck | | | |
| Fenton | Orange Tree | Rose Bowl | | | | White | 30.00 | 06/01/2013 | Polished feet | Seeck | | | |
| Fenton | Orange Tree | Rose Bowl | | | | White | 35.00 | 06/01/2013 | Foot chip | Seeck | | | |
| Fenton | Orange Tree | Rose Bowl | | | | White | 155.00 | 04/27/2013 | | Seeck | | | |
| Fenton | Orange Tree | Rose Bowl | | | | White | 35.00 | 03/02/2013 | | Seeck | | | |