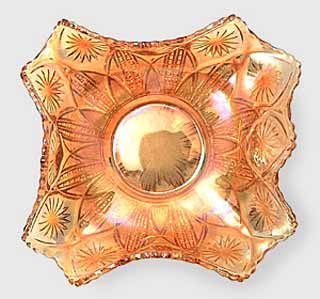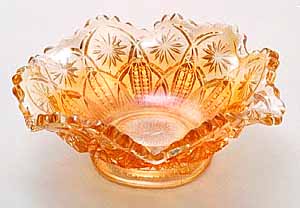 Like most geometric patterns, Country Kitchen is difficult to remember. Perhaps the best clue to distinguishing this pattern is the ring of multipoint stars that circles each shape near the top. Few pieces in this pattern sell from year to year. The oddly shaped bowl upper left, in marigold, sold for $575 in 1994. The marigold sauce (above right)belongs to Carl and Eunice Booker. A similar piece sold in 2007 for $45 and another for $120 in 2009. Two milk pitchers in marigold have been reported – but they are most likely Potpourri.
Bowls, about 10 inches
Marigold, 50, 85 (both 2009), 90, 110 (both 2012), 700 (2013), 115 (2014)
Marigold, deep round, 700 (2013)
Marigold, square, 550 (2003)
Sauces
Marigold, 120 (2010)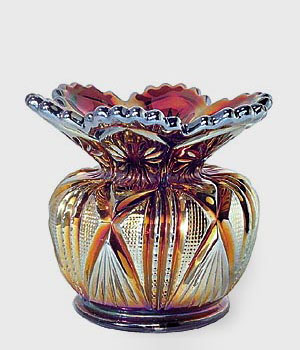 Curiously, most pieces in the table set are in amethyst. There at least two complete sets, including the one above, courtesy of Grace Rinehart. For some reason, most table set pieces that come on the market are damaged, making it very difficult to put together a prime set. The whimsey spittoon in amethyst is the only one that is reported. It was photographed while in the Whitley collection, and had come the from the Gaida collection. Believe this is the same one that sold in 2010 for $6,000.
Table set, 4 pieces
Amethyst, 3,500 (2007), 2,500 (2010), 900 (2011), 950 (2013)
Marigold, 1,200 (2007), 1,200 (2010)
Marigold, minor chips on sugar base, 650 (2012)
Butter dish
Amethyst, 305 (2004), 160 (2008), 160, 190, 425 (all 2010)
Green, 500 (2004)
Marigold, 350 (1995), 350 (2010)
Creamers
Amethyst, 110 (2006), 200 (2010), 90 (2011)
Green, 450 (2012)
Marigold, 100 (2004)
Spooner
Amethyst, 90 (2003)
Green, 450 (2012)
Marigold, 175 (1998), 130, 200 (both 2012)
Vaseline, 950 (2012)
Sugar, covered
Amethyst, 225 (2012)
Marigold, 75 (1997), 185 (2007)
Sugar lid only
Purple, 150 (2006)
Total Records Found: 73, showing 100 per page

| MFG | Pattern | Shape | Edge Treatment | General Size | Extra Detail | Color | Price | Sale Date | Damage | Auctioneer | Photo1 | Photo2 | Photo3 |
| --- | --- | --- | --- | --- | --- | --- | --- | --- | --- | --- | --- | --- | --- |
| Millersburg | Country Kitchen | Bowl | Ruffled | Large | | Marigold | 10.00 | 05/24/2018 | | Wroda | | | |
| Millersburg | Country Kitchen | Bowl | Ruffled | Sauce | | Marigold | 12.50 | 05/24/2018 | | Wroda | | | |
| Millersburg | Country Kitchen | Bowl | Ruffled | Standard | | Marigold | 30.00 | 05/24/2018 | | Wroda | | | |
| Millersburg | Country Kitchen | Bowl | Flared | Sauce | | Marigold | 30.00 | 03/24/2018 | | Burns | | | |
| Millersburg | Country Kitchen | Bowl | Ruffled | Sauce | | Marigold | 30.00 | 10/05/2019 | | Wroda | | | |
| Millersburg | Country Kitchen | Bowl | Ruffled | Standard | | Marigold | 35.00 | 05/13/2017 | | Wroda | | | |
| Millersburg | Country Kitchen | Bowl | Flared | Standard | | Marigold | 35.00 | 03/17/2018 | | Wroda | | | |
| Millersburg | Country Kitchen | Bowl | Ruffled | Sauce | | Marigold | 38.50 | 10/06/2017 | | Randy Clark | | | |
| Millersburg | Country Kitchen | Bowl | Ruffled | Sauce | | Marigold | 45.00 | 10/05/2019 | | Wroda | | | |
| Millersburg | Country Kitchen | Bowl | Ruffled | Standard | | Marigold | 45.00 | 03/24/2018 | | Burns | | | |
| Millersburg | Country Kitchen | Bowl | Ruffled | Standard | | Marigold | 45.00 | 10/08/2016 | | Wroda | | | |
| Millersburg | Country Kitchen | Bowl | Ruffled | Large | | Marigold | 49.50 | 10/06/2017 | | Randy Clark | | | |
| Millersburg | Country Kitchen | Bowl | Ruffled | Sauce | | Marigold | 50.00 | 10/08/2016 | | Wroda | | | |
| Millersburg | Country Kitchen | Bowl | Ruffled | Sauce | | Marigold | 65.00 | 10/07/2017 | | Wroda | | | |
| Millersburg | Country Kitchen | Bowl | Ruffled | Standard | | Marigold | 70.00 | 06/16/2018 | | Wroda | | | |
| Millersburg | Country Kitchen | Bowl | ICS | Sauce | | Marigold | 70.00 | 12/03/2017 | Edge chip | Seeck | | | |
| Millersburg | Country Kitchen | Bowl | Ruffled | Large | | Marigold | 70.00 | 10/07/2017 | | Wroda | | | |
| Millersburg | Country Kitchen | Bowl | Ruffled | Sauce | | Marigold | 75.00 | 07/21/2019 | | Seeck | | | |
| Millersburg | Country Kitchen | Bowl | Ruffled | Sauce | | Marigold | 75.00 | 06/16/2018 | | Wroda | | | |
| Millersburg | Country Kitchen | Bowl | Ruffled | Standard | | Marigold | 75.00 | 04/23/2016 | | Burns | | | |
| Millersburg | Country Kitchen | Bowl | Ruffled | Sauce | | Marigold | 75.00 | 10/08/2016 | | Wroda | | | |
| Millersburg | Country Kitchen | Bowl | Ruffled | Large | | Marigold | 85.00 | 10/08/2016 | | Wroda | | | |
| Millersburg | Country Kitchen | Bowl | Flared | Large | | Marigold | 90.00 | 10/06/2012 | | Wroda | | | |
| Millersburg | Country Kitchen | Bowl | Ruffled | Large | | Marigold | 100.00 | 03/23/2019 | | Burns | | | |
| Millersburg | Country Kitchen | Bowl | Ruffled | Large | | Marigold | 110.00 | 10/06/2012 | | Wroda | | | |
| Millersburg | Country Kitchen | Bowl | Ruffled | Large | | Marigold | 115.00 | 10/04/2014 | | Wroda | | | |
| Millersburg | Country Kitchen | Bowl | Ruffled | Large | | Marigold | 115.00 | 07/27/2019 | | Wroda | | | |
| Millersburg | Country Kitchen | Bowl | Ruffled | Large | | Marigold | 140.00 | 12/18/2016 | | Seeck | | | |
| Millersburg | Country Kitchen | Bowl | Flared | Standard | | Marigold | 205.00 | 10/07/2017 | | Wroda | | | |
| Millersburg | Country Kitchen | Bowl | ICS | Standard | | Marigold | 310.00 | 03/25/2017 | | Burns | | | |
| Millersburg | Country Kitchen | Bowl | Round | Standard | Proof | Marigold | 700.00 | 03/16/2013 | | Seeck | | | |
| Millersburg | Country Kitchen | Butter Dish | | | | Amethyst/Purple | 165.00 | 11/05/2016 | | Wroda | | | |
| Millersburg | Country Kitchen | Butter Dish | | | | Amethyst/Purple | 275.00 | 07/21/2019 | | Seeck | | | |
| Millersburg | Country Kitchen | Butter Dish | | | | Amethyst/Purple | 300.00 | 01/08/2017 | | Seeck | | | |
| Millersburg | Country Kitchen | Butter Dish | | | | Amethyst/Purple | 300.00 | 03/25/2017 | | Burns | | | |
| Millersburg | Country Kitchen | Butter Dish | | | | Marigold | 145.00 | 10/05/2019 | Chip on Point | Wroda | | | |
| Millersburg | Country Kitchen | Butter Dish | | | | Marigold | 181.50 | 10/06/2017 | | Randy Clark | | | |
| Millersburg | Country Kitchen | Butter Dish | | | | Marigold | 255.00 | 10/06/2018 | | Wroda | | | |
| Millersburg | Country Kitchen | Butter Dish | | | | Marigold | 375.00 | 03/24/2018 | | Burns | | | |
| Millersburg | Country Kitchen | Butter Dish Base | | | | Marigold | 50.00 | 05/25/2014 | Tooth chip | Seeck | | | |
| Millersburg | Country Kitchen | Butter Dish Top | | | | Amethyst/Purple | 35.00 | 10/25/2014 | | Burns | | | |
| Millersburg | Country Kitchen | Butter Dish Top | | | | Amethyst/Purple | 35.00 | 09/10/2016 | | Burns | | | |
| Millersburg | Country Kitchen | Butter Dish Top | | | | Amethyst/Purple | 45.00 | 10/05/2019 | | Wroda | | | |
| Millersburg | Country Kitchen | Creamer | | | | Amethyst/Purple | 115.00 | 10/19/2013 | | Burns | | | |
| Millersburg | Country Kitchen | Creamer | | | | Amethyst/Purple | 170.00 | 03/23/2019 | Chips on edge | Burns | | | |
| Millersburg | Country Kitchen | Creamer | | | | Amethyst/Purple | 825.00 | 03/25/2017 | | Burns | | | |
| Millersburg | Country Kitchen | Creamer | | | | Green | 450.00 | 07/14/2012 | | Seeck | | | |
| Millersburg | Country Kitchen | Spooner | | | | Amethyst/Purple | 50.00 | 03/24/2018 | Edge chip | Burns | | | |
| Millersburg | Country Kitchen | Spooner | | | | Amethyst/Purple | 50.00 | 04/07/2015 | couple of rough spots on top points, nicks in pattern | Seeck | | | |
| Millersburg | Country Kitchen | Spooner | | | | Amethyst/Purple | 75.00 | 10/19/2013 | | Burns | | | |
| Millersburg | Country Kitchen | Spooner | | | | Amethyst/Purple | 110.00 | 12/13/2015 | chips in pattern | Seeck | | | |
| Millersburg | Country Kitchen | Spooner | | | | Amethyst/Purple | 195.00 | 10/10/2015 | | Wroda | | | |
| Millersburg | Country Kitchen | Spooner | | | | Amethyst/Purple | 1,150.00 | 03/25/2017 | | Burns | | | |
| Millersburg | Country Kitchen | Spooner | | | | Green | 450.00 | 07/14/2012 | | Seeck | | | |
| Millersburg | Country Kitchen | Spooner | | | | Green | 575.00 | 10/08/2016 | | Wroda | | | |
| Millersburg | Country Kitchen | Spooner | | | | Marigold | 60.00 | 03/24/2018 | Edge chip | Burns | | | |
| Millersburg | Country Kitchen | Spooner | | | | Marigold | 110.00 | 03/24/2018 | Edge chip | Burns | | | |
| Millersburg | Country Kitchen | Spooner | | | | Marigold | 200.00 | 10/06/2012 | | Wroda | | | |
| Millersburg | Country Kitchen | Spooner | | | | Marigold | 335.00 | 10/10/2015 | | Wroda | | | |
| Millersburg | Country Kitchen | Spooner | | | | Vaseline | 950.00 | 10/06/2012 | Cracked | Wroda | | | |
| Millersburg | Country Kitchen | Sugar | | | | Amethyst/Purple | 225.00 | 10/06/2012 | | Wroda | | | |
| Millersburg | Country Kitchen | Sugar | | | | Amethyst/Purple | 975.00 | 03/25/2017 | | Burns | | | |
| Millersburg | Country Kitchen | Table set | | | Butter, Creamer, Spooner, Sugar base | Amethyst/Purple | 400.00 | 07/14/2012 | Polished Spooner | Seeck | | | |
| Millersburg | Country Kitchen | Table set | | | | Amethyst/Purple | 525.00 | 03/24/2018 | Chip on Sugar | Burns | | | |
| Millersburg | Country Kitchen | Table Set | | | | Amethyst/Purple | 900.00 | 08/13/2011 | | Wroda | | | |
| Millersburg | Country Kitchen | Table Set | | | | Amethyst/Purple | 950.00 | 06/22/2013 | | Wroda | | | |
| Millersburg | Country Kitchen | Table set | | | | Marigold | 575.00 | 10/07/2017 | | Wroda | | | |
| Millersburg | Country Kitchen | Table set | | | | Marigold | 650.00 | 02/17/2019 | Chips on base of Sugar | Seeck | | | |
| Millersburg | Country Kitchen | Table Set | | | | Marigold | 650.00 | 07/14/2012 | Chip on Sugar | Seeck | | | |
| Millersburg | Country Kitchen | Table set | | | | Marigold | 750.00 | 03/24/2018 | Chips on Butter Base | Burns | | | |
| Millersburg | Country Kitchen | Vase | | | | Marigold | 375.00 | 03/11/2017 | Glued flute | Wroda | | | |
| Millersburg | Country Kitchen | Vase | | | | Marigold | 950.00 | 03/24/2018 | Light Irid | Burns | | | |
| Millersburg | Country Kitchen | Vase | | | | Marigold | 1,650.00 | 04/23/2016 | | Burns | | | |