Page last updated March 2, 2017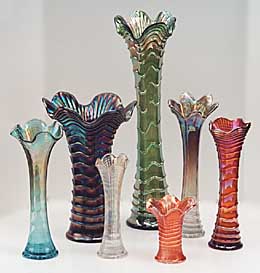 Carnival was made in a bewildering variety of colors–more than 50 have been identified. In addition, there was very little quality control in the early days, so a batch of glass could vary considerably. Carnival glass colors definitions are based on the color of the glass, with the exception of marigold, clambroth, white, and some smoke, which are clear glass.
The most common color is marigold, followed by amethyst/purple, blue, and green, however common colors really vary depending on manufacturer.
To check the color of the piece, use a strong light and look through it at a place where there is no iridescence. With a bowl or plate with heavy iridescence, you may have to look through the edge of the collar, or marie, on the bottom.
Shown here are Ripple vases in aqua, purple, clambroth, helios, marigold, smoke, and amber.
Note: The color of carnival glass in photos can very from one monitor to another. It is always best to view the different colors of carnival glass in person at a convention or an auction when possible.