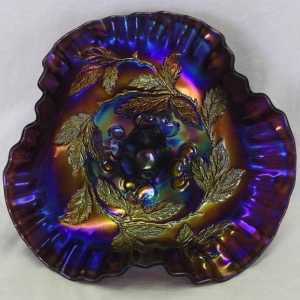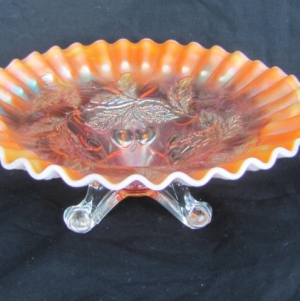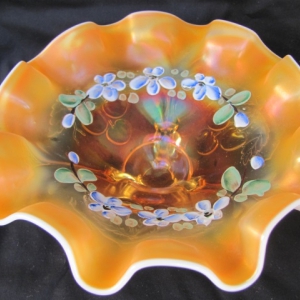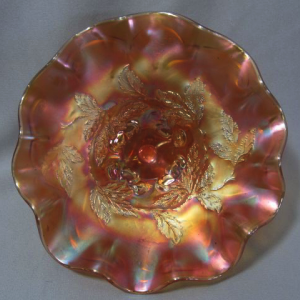 Manufacturer: Dugan
Year(s) of Production: 1910 Butler Bros Catalog
Pattern Description: This ball footed piece with a smooth outer edge was named for the exterior pattern of three panels, each with a group of three cherries and proportionately large leaves.Interior pattern of Cherries or may be plain (some enameled/painted).
Similar Patterns: Dugan Cherries (Daisy and Plume exterior), Cherries (Jeweled Heart exterior), Wreathed Cherry, Weeping Cherries; Fenton's Cherries, Millersburg's Hanging Cherries
About Paneled Cherries
One of the 5 cherry-themed patterns by Dugan (or Dugan/Diamond), Paneled Cherries is consistently ball-footed.
Dr. Larry Keig gives this detailed description of the pattern: 'Paneled Cherries is named for its back pattern. Seen on each of three panels is a cluster with three life-size cherries and proportionately large leaves. Each panel is demarcated by an elongated frond that looks like a variety of fern. The three rounded ball-footed legs extend from a pronounced distension dead center on the underside. The outer edge is smooth, not serrated. The inner surface of most Paneled Cherries bowls is similar to Cherries/Jeweled Heart, but it is less expansive. The design is made up of four clusters of fruit—two with three cherries, the others with two— in addition to stems and veined and stippled leaves. Two large leaves extend to within three-fourths of an inch from the outer edge, the rest are placed further inward, their tips as much as one and one-half inches from the edge. A large open area, at least the size of a Susan B. Anthony dollar coin, is found in the center.'
The interior of some bowls is un-patterned and some have enameled, painted patterns.
The bowls are found with crimped (sometimes tight crimping, sometimes 3n1 which often has one very deep crimp) edges as well as ruffled. Some are found with 2 sides of the piece pulled up (sometimes called a banana boat shape). All are ball footed.
Similar patterns are Dugan's Cherries (Daisy and Plume) splay footed version, Dugan's Cherries (Jeweled Heart Back) collar based version, Fenton's Cherries and Millersburg's Hanging Cherries. 
HoC Pricing Database
Select a shape below (available colors will display)