Below are many of the bottles found in Carnival Glass. Some are seen fairly regularly, others are probably one-of-a-kind.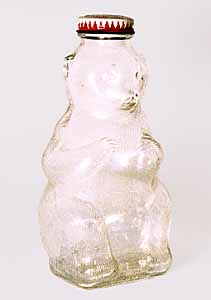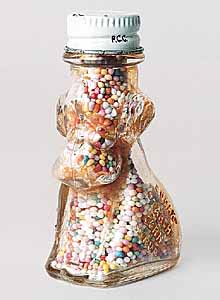 Bear and dog candy containers
The white bear bottle is from the collection of Carl and Eunice Booker; the dog bottle was photographed while in the collection of the late John Britt. The lettering molded into the sides says, "Sugar, Starch, Corn Syrup."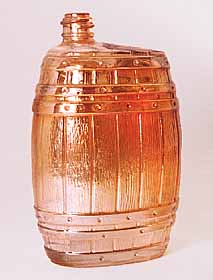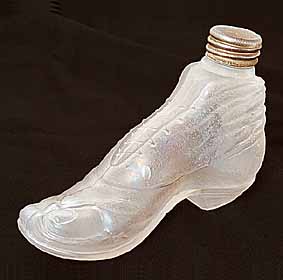 Barrel and shoe flasks
The barrel flask sold for $300 in 1994; the white shoe, with a big toe sticking out, brought $165 in 1994.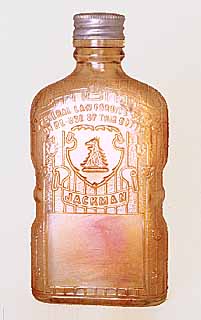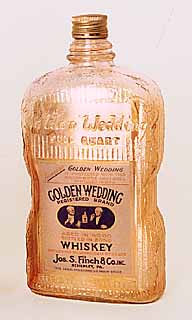 Jackman and Golden Wedding whiskey bottles
These are the two better known whiskey bottles. This Jackman bottles sold for $40 in 1999; two more for less than $15 in 2000. For Golden Wedding prices, click here.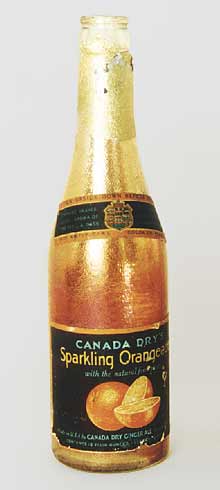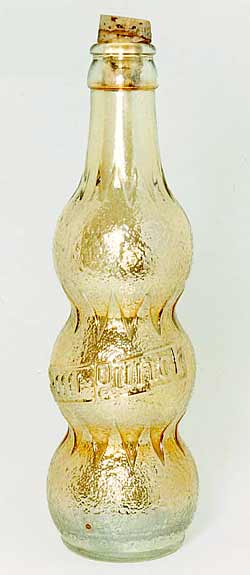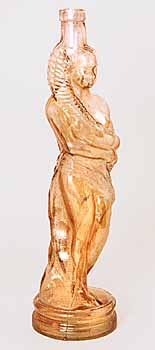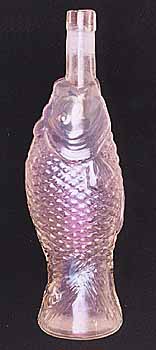 Cleopatra bottle, Fish bottle, Narcissus and Ribbon
As far as is known, these three pieces are the only examples in existence. The Cleopatra bottle is 16 inches tall and illustrated in Marion Hartung's book 9, courtesy of Bob and Geneva Leonard; the Fish bottle is white and 14 inches tall, courtesy of the late Jack and Eleanor Hamilton; the Narcissus and Ribbon is also courtesy of the Leonards.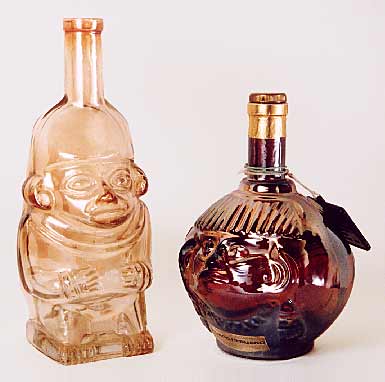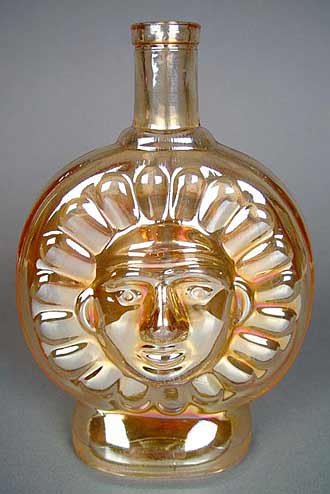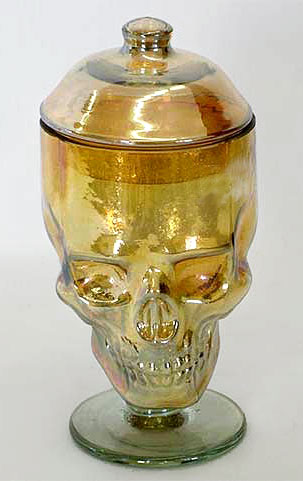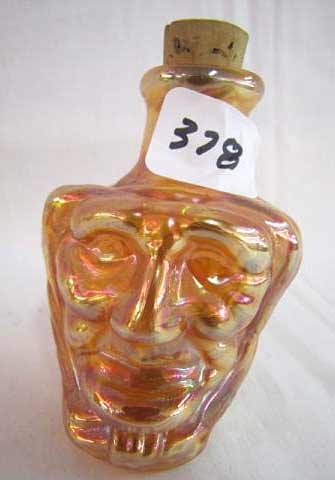 Total Records Found: 155, showing 100 per page
MFG
Pattern
Shape
Edge Treatment
General Size
Extra Detail
Color
Price
Sale Date
Damage
Auctioneer
Photo1
Unknown
Aztec Sun
Bottle
Marigold
30.00
08/10/2014
Seeck
Unknown
Aztec Sun
Bottle
Marigold
55.00
08/10/2014
Seeck
Unknown
Aztec Sun
Bottle
Marigold
120.00
01/13/2018
Wroda
Unknown
Aztec Sun
Bottle
Marigold
195.00
01/13/2018
Wroda
Unknown
Aztec Sun
Bottle
Amethyst
95.00
08/10/2014
Seeck
Unknown
Aztec Sun
Bottle
Amethyst
150.00
08/10/2014
Seeck
Unknown
Barden Heier Wine and Liq, Co.
Bottle
Novelty, Melted down
Marigold
160.00
06/14/2014
Seeck
Unknown
Canada Dry
Bottle
Without Label
Marigold
5.00
04/05/2014
Wroda
Unknown
Canada Dry
Bottle
Marigold
5.00
10/11/2014
Wroda
Unknown
Canada Dry
Bottle
With Label
Marigold
5.00
01/09/2016
Reichel
Unknown
Canada Dry
Bottle
With Label
Marigold
15.00
11/05/2016
Wroda
Unknown
Canteen
Bottle
Purple
65.00
08/10/2014
Seeck
Imperial
Corn Bottle
Bottle
Smoke
10.00
08/27/2011
Chipped and Cracked
Seeck
Imperial
Corn Bottle
Bottle
Smoke
225.00
11/05/2011
Seeck
Imperial
Corn Bottle
Bottle
Smoke
150.00
11/12/2011
Wroda
Imperial
Corn Bottle
Bottle
Smoke
170.00
09/22/2012
Seeck
Imperial
Corn Bottle
Bottle
Smoke
275.00
07/19/2014
Top edge chip
Seeck
Imperial
Corn Bottle
Bottle
Smoke
160.00
07/31/2014
Burns
Imperial
Corn Bottle
Bottle
Smoke
185.00
10/11/2014
Wroda
Imperial
Corn Bottle
Bottle
Smoke
300.00
03/21/2015
Seeck
Imperial
Corn Bottle
Bottle
Smoke
120.00
06/06/2015
Has been polished
Seeck
Imperial
Corn Bottle
Bottle
Smoke
300.00
06/19/2015
Wroda
Imperial
Corn Bottle
Bottle
Smoke
375.00
08/01/2015
Burns
Imperial
Corn Bottle
Bottle
Smoke
325.00
10/24/2015
Burns
Imperial
Corn Bottle
Bottle
Smoke
200.00
03/19/2016
Seeck
Imperial
Corn Bottle
Bottle
Smoke
170.00
05/07/2016
Seeck
Imperial
Corn Bottle
Bottle
Smoke
160.00
05/22/2016
Seeck
Imperial
Corn Bottle
Bottle
Smoke
375.00
06/25/2016
Wroda
Imperial
Corn Bottle
Bottle
Smoke
245.00
09/03/2016
Wroda
Imperial
Corn Bottle
Bottle
Smoke
140.00
12/03/2016
Wroda
Imperial
Corn Bottle
Bottle
Smoke
375.00
02/11/2017
Burns
Imperial
Corn Bottle
Bottle
Smoke
275.00
04/29/2017
Seeck
Imperial
Corn Bottle
Bottle
Smoke
155.00
11/18/2017
Burns
Imperial
Corn Bottle
Bottle
Smoke
160.00
11/18/2017
Burns
Imperial
Corn Bottle
Bottle
Marigold
310.00
03/05/2011
Seeck
Imperial
Corn Bottle
Bottle
Marigold
55.00
11/05/2011
Rub on top
Seeck
Imperial
Corn Bottle
Bottle
Marigold
150.00
07/14/2012
Seeck
Imperial
Corn Bottle
Bottle
Marigold
210.00
03/02/2013
Seeck
Imperial
Corn Bottle
Bottle
Marigold
275.00
07/20/2013
Seeck
Imperial
Corn Bottle
Bottle
Marigold
120.00
03/15/2014
Seeck
Imperial
Corn Bottle
Bottle
Marigold
70.00
04/13/2014
Rim chip
Seeck
Imperial
Corn Bottle
Bottle
Marigold
215.00
07/19/2014
Seeck
Imperial
Corn Bottle
Bottle
Marigold
115.00
07/31/2014
Burns
Imperial
Corn Bottle
Bottle
Marigold
195.00
10/11/2014
Wroda
Imperial
Corn Bottle
Bottle
Marigold
85.00
11/15/2014
Seeck
Imperial
Corn Bottle
Bottle
Marigold
70.00
12/14/2014
Chip on edge
Seeck
Imperial
Corn Bottle
Bottle
Marigold
80.00
03/21/2015
Seeck
Imperial
Corn Bottle
Bottle
Marigold
85.00
05/30/2015
Wroda
Imperial
Corn Bottle
Bottle
Marigold
80.00
05/30/2015
Wroda
Imperial
Corn Bottle
Bottle
Marigold
95.00
10/24/2015
Burns
Imperial
Corn Bottle
Bottle
Marigold
80.00
01/17/2016
Tiny nick on top edge
Seeck
Imperial
Corn Bottle
Bottle
Marigold
75.00
04/17/2016
Minor nicks on top edge
Seeck
Imperial
Corn Bottle
Bottle
Marigold
130.00
05/07/2016
Seeck
Imperial
Corn Bottle
Bottle
Marigold
100.00
10/15/2016
Wroda
Imperial
Corn Bottle
Bottle
Marigold
125.00
10/29/2016
Burns
Imperial
Corn Bottle
Bottle
Marigold
125.00
12/03/2016
Wroda
Imperial
Corn Bottle
Bottle
Marigold
130.00
12/11/2016
Seeck
Imperial
Corn Bottle
Bottle
Marigold
40.00
04/08/2017
Epoxy on spout
Burns
Imperial
Corn Bottle
Bottle
Marigold
300.00
04/29/2017
Seeck
Imperial
Corn Bottle
Bottle
Marigold
120.00
11/18/2017
Burns
Imperial
Corn Bottle
Bottle
Green
100.00
05/11/2011
Seeck
Imperial
Corn Bottle
Bottle
Green
210.00
08/27/2011
Seeck
Imperial
Corn Bottle
Bottle
Green
125.00
11/05/2011
Seeck
Imperial
Corn Bottle
Bottle
With Cork
Green
160.00
04/20/2013
Wroda
Imperial
Corn Bottle
Bottle
Green
125.00
07/31/2014
Burns
Imperial
Corn Bottle
Bottle
Green
65.00
10/11/2014
Small Chip on Edge
Wroda
Imperial
Corn Bottle
Bottle
Green
145.00
10/25/2014
Burns
Imperial
Corn Bottle
Bottle
Green
225.00
03/21/2015
Seeck
Imperial
Corn Bottle
Bottle
Green
400.00
06/06/2015
Seeck
Imperial
Corn Bottle
Bottle
Green
300.00
01/10/2016
Seeck
Imperial
Corn Bottle
Bottle
Green
155.00
10/29/2016
Burns
Imperial
Corn Bottle
Bottle